Transportation Services is tapping existing bus drivers to serve as department ambassadors tasked with recruiting fellow bus drivers and encouraging them to join their ranks.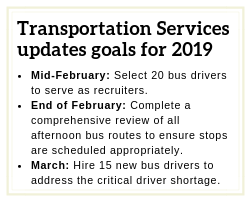 The 20-member internal recruiting team will be established by mid-February, Transportation Services General Manager John Wilcots IV said. The hand-picked team will work on recruitment each day after they complete their routes.
Recruitment duties will include attending job fairs and other recruitment events and posting recruitment fliers in areas with high traffic, such as libraries, beauty shops, and restaurants.
"They're the best people to go out there and tell others about their jobs and really sell Transportation Services," Wilcots said. Continue reading →