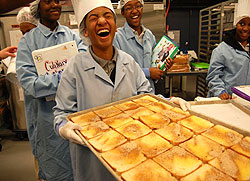 Sixth-grade students in the culinary arts class at Gregory-Lincoln Education Center got a taste of what it's like to work for the Department of Health and Human Services recently, when they spent an afternoon conducting a mock inspection of HISD's Food Services Support Facility.
Accompanied by Quality Control Manager Randy Milton, students went through their checklist of do's and don'ts of safe and healthy kitchen practices. "Before we went in, I told them what types of things inspectors typically look for," said Milton, who previously served as a seventh-grade science teacher at Cullen Middle School. "For instance, hot foods are supposed to be kept at 135 degrees or higher, while cold foods are supposed to be kept at 41 degrees or lower, so we checked the temperature of some of the items on display, and talked about the risk of food being in the danger zone, such as the growth of different pathogens."
Students also learned the importance of good hygiene, such as the importance of wearing hair nets, washing their hands, removing jewelry, and wearing slip-resistant shoes when working in a kitchen environment. While in the facility's catering kitchen, students  had the opportunity to prepare a new recipe for cinnamon toast (pictured) that is currently being served on the district's breakfast menu.