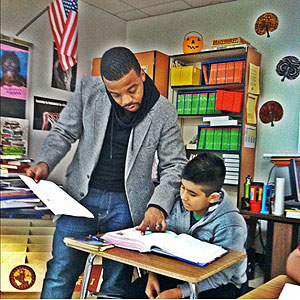 Since HISD first launched its partnership with Doug Lemov a few years ago, educators in middle schools across the district have been implementing the strategies described in his book, Teach Like a Champion, with great results.
One of the most popular techniques is called "threshold," in which teachers greet each student with a smile, direct eye contact, and a handshake upon their entrance to the classroom.
But sometimes, kids just aren't in the mood to be sociable, so here's how one teacher handled it:
"There was a certain scholar who had been in a funk the whole day," explained Mical Roy, a seventh-grade reading teacher at Edison Middle School. "And when it came to the young agitated scholar's turn to give me a high five, he said, 'Man, I don't feel like doing this (expletive)!' I asked him kindly to consider having a different outlook on his day, and to re-think his actions. He proceeded, giving me a high five, and marched into class. Now, things could've gone much worse, either in the way I responded or in the choice he made after I encouraged him to think positively. But I received much praise for the way I handled it, and it truly proved to me that perception is everything."
Had a breakthrough in your classroom? Tell us about it! Just send an email to

info@houstonisd.org

briefly describing your situation, and we could feature it here.