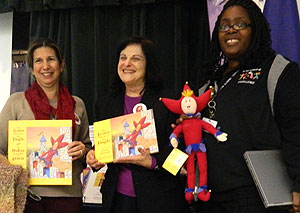 Students at Benbrook Elementary School participated in a read-a-thon recently to help children who are receiving medical treatment for cancer or other diseases.
The children read more than 108,000 pages collectively, with the top classes—Diana Pereyra's kindergarteners and Claudia Buitrago's fifth-graders—logging 16,571 and 12,459 pages, respectively.
As a result of the students' efforts, 35 patients at Texas Children's Hospital received a free copy of the book, The Jester Has Lost His Jingle, by David Saltzman. They also received a stuffed jester doll to hold for comfort during treatments, through an arrangement with community partner Comcast and the Jester & Pharley Phund.
The school's top readers also received a pizza party and free copies of the book.
Travis ES's Silver Rocket magazine takes off at launch party
Travis Elementary School has created a magazine that features poetry and art created by students, and the public had a chance to buy a copy and help support the school last weekend.
All of Travis' 755 students were invited to submit prose, poetry and/or art in any medium for the magazine, titled Silver Rocket. Out of the nearly 600 entries, about 30 poems and 30 works of art were selected. All students and teachers received a free copy of the magazine. Students whose work appears in the magazine also received a T-shirt.
Students celebrated with a launch party at Brazos Bookstore on April 13. The magazine is funded by the school's parent-teacher association, the Travis Foundation, Brazos Bookstore, and proceeds from the sales of the magazine and T-shirts.
See Roberts ES students' art in Texas Medical Center through April 25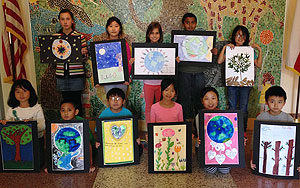 In celebration of Earth Day, the students in Theresa Tarn's after-school Art Club at Roberts Elementary have been working diligently on special projects that reflect the gratitude, wonder, and responsibility they feel for our planet.
Students used a wide variety of mediums to visually communicate the importance of clean air, water, and land. The artwork will be displayed  in the lobby of the Life Science Plaza (2130 W. Holcombe Blvd at Pressler St., 77030) April 14-25. 
Park Place ES loses beloved third-grade teacher
Our hearts go out to the students, colleagues, friends, and family of Richard Buentello, a third-grade bilingual teacher who lost his battle with cancer on April 11.
Buentello, who moonlighted as and owned his own business as a realtor, previously served the district at Harvard and Stevenson Elementary schools. His obituary is here.