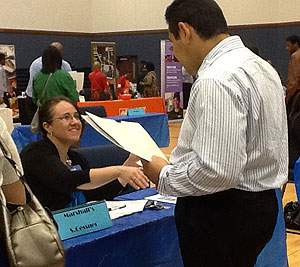 Juniors and seniors with disabilities from about 20 HISD high schools got a chance to land paying summer and long-term jobs recently at a fair held on May 1 at Bethel's Place Empowerment Center.
The sixth annual Transition Job Fair and Business Expo, which was sponsored by the Department of Assistive and Rehabilitative Services (DARS) in partnership with Workforce Solutions, Bethel's Place, and Houston, Ft. Bend, Aldine, and Alief ISDs, was designed to educate and increase awareness among local employers about the services and resources DARS provides to businesses that hire Texans with disabilities.
The DARS program will assist employers by paying 50–80 percent of the salaries for participating students for an eight-week period.
"DARS provides a valuable service to the community and for participating employers," said Walter August Jr., chairman of the board of Bethel's Place. "Our desire is to see hundreds of young people be empowered and up lifted through this continued collaboration."
Participating HISD schools included: Austin, Chávez, Davis, Furr, Jones, Lamar, Lee, Madison, Milby, Scarborough, Sharpstown, Sterling, Waltrip, Washington, Westbury, Westside, Wheatley, Worthing, and Yates. Students in the district's HCC-Transition program also took part.
Mount Carmel students get free yoga classes from author of 'Fierce Medicine'
The author of Fierce Medicine and creator of Forrest Yoga, Ana Forrest, gave an exclusive talk to the students of Mount Carmel Academy as part of her 2014 world tour. Forrest visited the school last month to present her insights on tackling fear, being authentic and speaking truthfully—all topics studied as part of the students' English literature curriculum.
The visit was the brainchild of Kylee Groos, an English teacher at Mount Carmel. After reading Fierce Medicine herself, she was inspired to share excerpts of the book with her students. "The topics in this book are so relevant to our teenagers," said Groos.
Ana Forrest's own teenage years were fraught with difficulty — abuse, drug & alcohol addiction and bulimia, to name but a few. Despite that, Forrest is now one of the most well-known yoga teachers and healers on the planet.
"In the mid-semester evaluations, many of my students said that Ms. Forrest's texts were the most influential of everything we read that semester," said Groos.
"I wrote Fierce Medicine with the deep desire that this book will touch people everywhere," said Forrest. "I'm so excited that I get to meet the Mt. Carmel teenagers and share with them these treasures that saved my life."
Forrest taught five yoga workshops in Houston in January and used the proceeds to pay for a Forrest Yoga teacher to run regular classes for students at Mount Carmel Academy.
Atherton drumline, cheering squad perform at national conference
The Atherton Elementary School drumline and cheerleaders took their award-winning and upbeat percussion and dance routine on the road for the first time last week.
Thirty-two fourth- and fifth-grade students in the drumline and cheerleading program headed to Palm Springs, Calif., on April 29 to perform at a national after-school conference called the Best of Out-of-School Time (BOOST) Conference. This is the group's first time performing out of state, and the students were scheduled to perform Wednesday through Friday at the conference for about 2,000 attendees at the Palm Springs Convention Center.
You can read the full story here.