Get ready for rodeo time—Feb. 27 is Go Texan Day!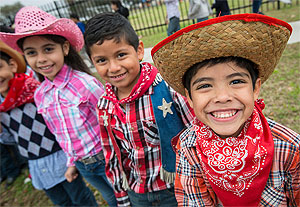 Dust off your boots and reshape your cowboy hats, rodeo fans. It's almost springtime in Texas, and that means the Houston Livestock Show & Rodeo is right around the corner.
This much-anticipated event will begin its annual run at the NRG Park complex on March 3, 2015.
To recognize its significant contributions to public education, HISD will be observing "Go Texan Day" on Friday, Feb. 27, 2015, and district employees and students who wish to participate are encouraged to come to work and school dressed in their finest "Western wear."
The Show, which is celebrating its 84th anniversary, has been a valuable educational partner. In 2014, the Show awarded scholarships worth $1,602,000 to 89 HISD graduates.