As Abby drove through the beautiful campus looking for my dorm, all I thought was, "I can't believe I'm actually here!". Eventually, we found my new home: Casa Zapata. First, I got off the car to make sure we were at the right dorm. I entered the dorm looking for guidance and I was greeted with, "Felipe! You're finally here! We were all worried you weren't coming." My first reaction was "Oh boy, he's so excited." My second reaction was "How does he know my name?" (It turns out that all the student dorm staff had to memorize our names.) My third reaction was "Yay! Someone cares about me." He introduced himself as Josh, the first floor RA. He then took a picture of Abby and me, and helped unload my belongings. Then I said goodbye to Abby, and hello to the amazingly kind stranger who welcomed me with open arms.
After Abby left, Josh took me upstairs to show me my room. I got my ID, my keys, and a yellow envelope. I stayed in the room unpacking, looking around, examining my new home. I saw my roommate's stuff on the right side of the room. By the sign on the door, I knew his name was James.
Moments later, I stepped out of the dorm, and when I returned my roommate was in the room with his family. I accidentally confused James' brother as my roommate. After that awkward moment I reintroduced myself to James and his family. We began to talk, and I learned that James is from Virginia, and that his parents and sister had all attended Stanford. I found this intimidating, because I am the first one in my family to ever attend college, but James' family was anything but arrogant, which comforted me. At first James struck me as shy, anti-social, and to himself. I wasn't sure if he would be willing to converse, much less be good friends. However, I now see James as one of the kindest, funniest, and most reliable people I have ever met, even if he is uniquely awkward. Personally, I couldn't have wanted a better roommate than James – he's the best.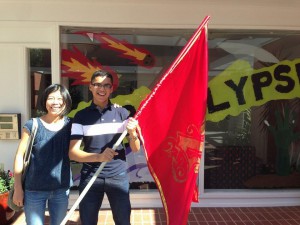 For the New Student Orientation (NSO) opening ceremony, I tagged along with Thomas, the first freshman I met when I stepped outside my room. We walked along with his family, who had come to drop him off, all the way from North Carolina. Thomas' parents were very nice to me, and I carried on a long conversation where I talked about Emerge and Chavez Prep. They attentively listened to me, which was a happy surprise since I had the preconceived notion that most people at Stanford would be haughty and prideful. After the ceremony, like the rest of NSO ( let's just say Stanford has WAY too many acronyms), my schedule was filled with events. It felt like "Boom! Boom! Boom!" as we all had to attend one event after the other, with little to no down time. We had social events such as ice cream socials, dance parties, tours to get to know the campus, etc. We also had academic preparation events, but there was a great amount of events focusing on sexual and alcohol abuse. I can honestly say that I didn't have time to miss home. This might sound like a "first world problem" but after so many events, I felt a bit overwhelmed by all the information about all the student resources Stanford offered.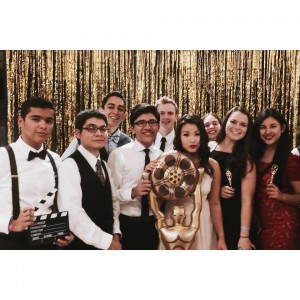 I kept getting to know amazing people from different backgrounds. In Casa Zapata, around half of the students identify as Hispanic or Latino, while the other half is from different ethnicities, from different grade levels. All I can say is that I am very happy because Stanford, Emerge, and Prep helped me to slowly ease in to a new environment. In Zapata, I have a sense of home even though within the Hispanic population we come from different countries, socioeconomic status, with very opposite experiences. I don't think I would have enjoyed my time as much had I been in an all freshmen dorm.
This was a brief summarization of NSO. I would like to know in the comment section what you all would like to know or think.