By Karen Banda
As part of my internship with EMERGE, I was a chaperone for this year's Boston College Tour. My group consisted of 14 rising high school juniors, all of whom had a spark ready to be lit by at least one of the colleges on our visit. I saw myself in these students. I saw the hunger for a bigger and brighter future in their eyes — a hunger that they probably didn't even know existed. I saw a fire that illuminated everything going on around them and the desire to take it all in. This hunger and fire are not visible in many kids their age.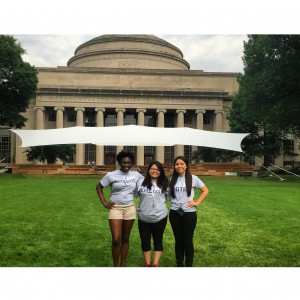 The trip started with a very early wake-up call for everyone. By 3:45 a.m., students were supposed to be at the Hattie Mae White building, ready to tour six colleges in five days. Although tired, the students seemed ready and excited for what was to come. We departed Houston in an airplane full of EMERGE Fellows — a beautiful sight.
On the first day, I got to know my kids — Karina, Suemy, Maria, Andrea, Joceline, Genesis, Connie, Alejandra, Syed, Lorenzo, Alfonso, Michael, Dongha,, and Gerardo. We talked about their fears and struggles as first-gen, minority, or low-income students striving to attend a top-tier college. I introduced myself, told them that I was a rising sophomore at Smith, and that I, too, had gone through struggles similar to their own. We played group games to strengthen our relationships and bonds, and they were all smiles and laughter — even the shy and quiet ones.
During the next few days, we toured Brandeis, Tufts/Wellesley, Northeastern, MIT, Harvard, and Brown. The bond of Group 5 strengthened, and we became a little family. I also met Dariana and Jennifer, two EMERGE scholars who had just graduated high school and will be attending Brandeis in the fall. We made plans to meet, and I made sure they knew I was there to support and help them through any problems they may face during their first year. They asked questions about the terrible winters and what they needed to survive them.
I grew closer to Danny, my former program manager, and learned many things about him that I didn't know before. He became more of a friend during this short trip. I also had the pleasure of working next to and getting to know Felicia Martin and Victoria Chen — two beyond awesome people — and all the other chaperones. The people on this trip definitely made it fun and a beyond amazing experience.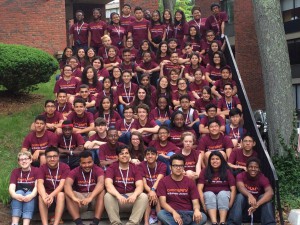 One thing that stood out in the trip was Wellesley's tour. A lot of the girls went in thinking that they would NEVER apply or go to an all-women's college. Many had misconceptions regarding what an all-women's college is like or what type of education they would receive. After a tour of the campus and an info-session, however, those thoughts flew out the window. As we were heading back to the bus, I heard many girls talking excitedly about the possibility of going to Wellesley, although I did talk to them about Smith in the hope that they would fall in love with it as well. Many of the girls even asked me why I chose Smith and what my experiences have been like. I am happy that EMERGE is opening the eyes of the girls in the program to show them what an empowering education an all-women's college can provide.
This past week was exhausting but exciting and rewarding. Going back home and seeing the fellows ready for their next year of school and hearing them talk about how they want to attend one of those schools brightened my day. I looked back to when I was a rising junior in high school and realize how these kids are surer of where they want to go than I was during senior year. I am glad that they have the fire inside of them to break boundaries and surpass the road blocks that are in their way. Hopefully, when I am a senior at Smith, I will get to see some familiar faces starting their first year on my campus and the other Massachusetts schools.