My name is Daniel Vargas and I attend Westside High School. I recently visited Yale University with the EMERGE team and I have to say, it changed my perspective of my future role as a college student. Here are just three ways this trip has enriched my life:
1) Before coming to Yale, I felt inadequate to compete with other accomplished students. I always had a feeling that I was limited to certain schools because I had several insecurities about the accomplishments I had made. However, I built new relationships and this idea vanished as my confidence grew, because I became engaged in case studies and intricate talks about my future. As I reflect on this trip, I start to think that maybe this is what some students need to become comfortable with the stress-inducing task of dealing with college applications alone. In short, this trip can change anyone's life.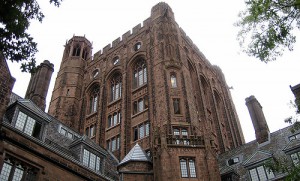 2) Coming to Yale shed light on my ignorance. Prior to this, I lacked knowledge of what a liberal arts school really was. I thought I wanted to attend the University of Texas at Austin. I was limited to what I thought was a good school and what a potential employer might find captivating. But after learning of this amazing thing called liberal arts, I learned there was a more efficient way to mix all my passions and earn a degree that isn't dedicated to one subject. I also did not know how much universities are willing to give me money to attend their classes and even study abroad! The amount of information I learned became overwhelming after a certain point, because now, I feel compelled to apply this knowledge to finding a better choice to fit my desires [..]
3) I had a mock interview with a college admissions officer. I did not know this person, but I did my task of expressing my passions and my aspirations. The conflict I faced was an interest in business as well as a passion for sharing my knowledge and volunteering. What seemed to be incompatible was abruptly converted into what I might want to do with my life. My interviewer, someone I had never seen before, [gave] me the idea of starting my own non-profit organization. I became intrigued instantly. In a sense, she transformed what I wish to study.
Words can't express how beneficial this trip was for us as EMERGE juniors. Many students walked around comparing Yale to Wesleyan, showing intense interest in both. I can't think of one student who has failed to enjoy this trip and its benefits. Words can form ambiguous phrases, so one might not be able to understand how passionate I am about letting others experience what I have. So [my advice to future EMERGE students] is — experience it for yourself, join EMERGE and go on the Yale trip next summer. I'll enjoy seeing your blogs and reading about your stellar experiences.