Rockets recognize six HISD 'Teachers of the Game'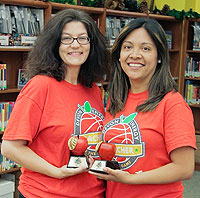 Six HISD educators have been named "Teachers of the Game" by the Houston Rockets and Devon Energy Corporation, including Kimberly Boyce (left) and Anallely Almanza, both from Piney Point Elementary School.
Fifteen exemplary Houston-area teachers in all were recognized for going above and beyond the call of duty in the classroom and for inspiring their students to succeed in school and in life.
All received their awards on the basketball court during a Houston Rockets game. In addition, they each received a $100 gift certificate from Devon Energy for classroom supplies.
The other HISD winners this year were: Michelle Beer (Briarmeadow Charter), Chris Gray (Harvard ES), Diane Morrow (Davis HS), and Briana Sandoval (Lantrip ES).