Bruce ES cafeteria worker collects box tops for kids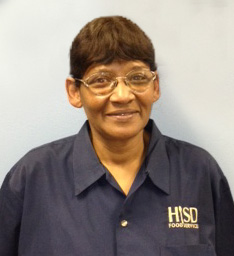 This week's Shout Out goes to Food Services attendant Rose Williams from Bruce Elementary School magnet coordinator Kay Stephenson.
Stephenson describes Williams as "one of our most beloved staff members," and praises the cafeteria worker for her willingness to help the school obtain materials through the box top collection program.
"She gives her time freely, staying after her shift is over on many days, to collect and count box tops," explained Stephenson. "She also goes to other areas to collect box tops and works with school staff to ensure they are ready for shipment. She always has a smile and greets everyone on a daily basis with love and respect. I don't know what we would do without her."
Other Shout Outs this week go to:
Teacher Stacey Montalvo (Benbrook ES): "She was once my fifth-grade student at the same school where we both are now teaching!" —Teacher Coletta Sayer
Brookline ES Cinco de Mayo program coordinators: "A big shout-out to Ms. Herrera and Ms. Penaloza, teachers who helped plan, organize, and teach the dances to students, and our music department; and Ms. Bradford and Ms. Lewis for practicing with the students. We even had teachers model expectations and dance as well. — Principal Marco I. Morales
Teacher Robert Love (Jordan HS): "My father has been employed with HISD for 41 years. He started at I. M. Terrell as a teacher and basketball coach, and has made an impact at Dowling, Burbank, and Reagan as well. With his kindness, humanitarian spirit, and dedication, my father has touched many lives. I didn't intend to be a teacher when I attended college; however, I was at a crossroad in my career path and my dad told me, 'Choose education; you will be able to obtain employment and make a difference.' I am thankful to have had him to guide me throughout my journey in education. He taught me to always keep the needs of the students first and do your job to the best of your ability. —Teacher Joy Love
Know someone who deserves a shout-out? Send an email to

info@houstonisd.org

with the subject line "Shout Out for eNews!" and tell us why.