Learn the ABC's of diabetes on May 30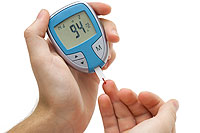 HISD's Benefits department will be hosting a lunch-n-learn style session on Thursday, May 30, 2013, on "The ABC's of Diabetes."
The event will take place from noon until 1 p.m. in Room 3C10 of the Hattie Mae White Educational Support Center (4400 W. 18th St. 77092). Topics covered include: who is at risk, warning signs to look for, and preventative care.
Space is limited, so please register via e-TRAIN (use course code BN0031). 
Questions? Contact HISD Benefits at 713-556-6655.