Parent/student assistance office gets kudos for exemplary customer service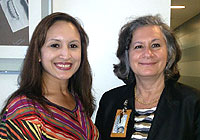 This week's Shout Out goes to Melissa Lopez (left) and Suzanne Mihaloglou in the Parent Community Assistance office from Grace Sauls, a 1974 graduate of Jones High School.
Sauls said she was "beyond frustrated" at being transferred multiple times after calling the district to obtain a code she needed to qualify for college financial aid, but "Ms. Lopez calmed me down."
"She exemplified a professional, congenial, and empathetic tone," said Sauls, in an email to the district, "(so) it did not surprise me her efforts to remedy my dilemma were successful. I am truly grateful to her for devoting time above the norm to acquire the information I needed. (She is) a gem and an asset to HISD. Thumbs up, Ms. Lopez!"
"Ms. Lopez and Ms. Mihaloglou are true professionals who consistently go above and beyond to serve our parents and community," added HISD School Services Officer Lupita Hinojosa.
Know someone who deserves a shout-out? Send an email to

info@houstonisd.org

with the subject line "Shout Out for eNews!" and tell us why.