Summer camp a shared experience for many employees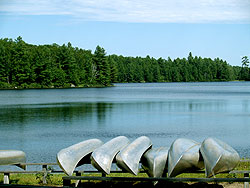 In last week's edition of Friday eNews, we asked members of Team HISD about their summer camp experiences—and to a person, everyone who responded said they had attended camp themselves as youngsters.
About 80 percent of respondents said that they went to sleepaway camps as opposed to day camps, and of those who were parents, another 70 percent said they had shared that experience with their children, because it was a good experience for them to have.
About a third of survey takers said they went to camps run by the Girl Scouts or Boy Scouts, while another fifth went to privately run camps. The remainder attended camps with a religious affiliation, either Christian or Jewish.
Lunch 'N Learn sessions return to HMWESC June 10–Aug. 13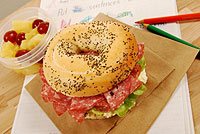 If you're one of the more than 900 HISD employees who offices at the district's headquarters, then mark your calendars now, as the next series of Lunch 'N Learn sessions is returning to the Hattie Mae White Educational Support Center when the 4-10 summer schedule resumes.
The sessions will start with "estate planning, wills, and trusts" on Mon., June 10, and conclude with "getting healthy for life" on Tues., Aug. 13. The sessions will be led by representatives from HISD Benefits, the Employee Assistance Program, and associations for Alzheimer's and diabetes.
Registration must be completed via e-TRAIN. Direct questions to the Benefits Department at 713-556-6655.
Sign up now for mandatory CPR training June 22–Aug. 8
If you are a campus-based member of Team HISD who participates, sponsors, and/or coaches any UIL-sanctioned or co-curricular activities, then the State of Texas requires you to be certified in the administration of Cardio Pulmonary Resuscitation, Automated External Defibrillator, and First Aid (CPR/AED/FA).
Stipend payments are dependent upon this certification, so if you need the training, please sign up now for one of the available sessions between Thursday, June 22, and Thursday, August 8, to ensure that the district is in compliance with this legal requirement.
For details, including training dates, times, and locations, please see this related Academic Services Memo.
Early Bird Alert: Discount offer to Aug. 31 Texas Kickoff Classic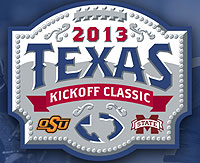 The Houston Texans, HISD's longtime community partner, is offering district employees a savings of about 15 percent off of the regular price of tickets for a new fall tradition.
The inaugural Texas Kickoff Classic is coming to Reliant Stadium on Saturday, Aug. 31, 2013, and district employees can get a family value pack of four tickets, four hot dogs, and four soft drinks for prices starting at $120.
Come launch the college football season by watching the Mississippi State Bulldogs take on Oklahoma State Cowboys for less.
To take advantage of this special offer, please contact Warren Caguioa at 832-667-2319 or warren.caguioa@houstontexans.com. A downloadable flyer (.pdf) is available for reference.
All processing charges, taxes, and fees will be waived.