Next Lunch 'N Learn sessions June 26 and 27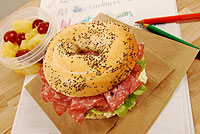 Representatives from a number of HISD departments are giving district employees a chance to expand their knowledge while they eat their mid-day meal during various "Lunch 'N Learn"-style sessions scheduled for the summer months. Here are brief descriptions of the next two, which will both be held from noon until 1 p.m. at the Hattie Mae White Educational Support Center (4400 W. 18th St. 77092):
Memory Fitness: Protecting a Valuable Asset—Presented by the Employee Assistance Program on Wed., June 26, this session will discuss what memory is and how it works. Participants will gain tools to sharpen their memory and to prevent memory loss. Course Code: BN0017; Room 3C10
Thriving in a Multigenerational Workplace—Presented by the Employee Assistance Program and Benefits on Thurs., June 27, this session will show how multigenerational work environments can be a source of positive challenge, opportunity, and growth, if managed correctly. Participants will increase their understanding of the differences between generations in today's workforce and learn how to work with those differences and enjoy them. Course Code: BN0035; Room 1E01
Registration must be completed via e-TRAIN. Direct questions on the first session to Benefits at 713-556-6655 and the second session to Onboarding & Organizational Development at 713-556-7575.