OneGoal program helping SECHS juniors visualize their growth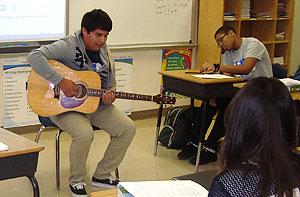 Students at HISD's South Early College High School (SECHS) are using visualization techniques to clarify their goals and take tangible steps to accomplish them.
Juniors such as Sydni Banks and Kevin Hernandez (pictured, playing guitar) are learning these techniques through a program called OneGoal, a teacher-led college persistence program that helps underperforming high-school students excel in college. The OneGoal program was brought to SECHS in 2013 by current program director Jamie Lopez.
"OneGoal is important because it gives diverse students the academic, social, and personal skills needed to graduate from a university in four years," said Lopez. "OneGoal apprentices were selected because they demonstrated a commitment to earning a college degree and putting forth the necessary effort to do so."
One project requires students to visualize their future by performing skits that not only showcase their talents, but also demonstrate what their personal growth will look like in the future.
Participants in the program say that the exercises are helping them make their plans a reality. Junior Wendy Argueta, for instance, says she has stopped procrastinating, while Mirla Estrada made "A"s in two of her summer classes at Houston Community College.
"I am contributing to the college culture by being organized and responsible in all of my classes," said junior Araceli Beltran. "To me, (that) means turning in my homework on time and monitoring my grades every night."
Had a breakthrough in your classroom? Tell us about it! Just send an email to

info@houstonisd.org

briefly describing your situation, and we could feature it here.