Daylight Saving Time Ends Sunday, Nov. 3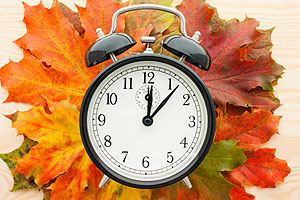 Don't forget to move your clocks backward by one hour when you go to bed on the evening of Saturday, Nov. 2, as Daylight Saving Time (DST) comes to an end.
This annual "falling back" takes place about a week later than it used to due to a law passed in 2005 by the U.S. Congress. Instead of beginning on the first Sunday of April and ending on the last Sunday of October, it has begun on the second Sunday of March and concluded on the first Sunday of November since 2007.
Daylight Saving Time officially ends this year at 2:00 a.m. on Sunday, Nov. 3, 2013.
Here are some other dates you might want to mark on your calendar:
Nov. 2: School Choice Open House
Nov. 4-8: Magnet Awareness Week
Nov. 4: Magnet applications accepted for 2014-15 school year
Nov. 5: Election Day
Nov. 5: New employee orientation
Nov. 6 (.pdf): Payday
Nov. 14: ADL's Houston in Concert Against Hate
Nov. 18-22: SPARK Parks Week
Nov. 20 (.pdf): Payday
Nov. 23 & 24: Via Colori Street Festival
Nov. 27-29: Thanksgiving holiday (.pdf)
Dec. 3: New employee orientation
Dec. 4 (.pdf): Payday
Dec. 12: Regular Board meeting
Dec. 18 (.pdf): Payday
Dec. 20: Deadline for guaranteed first-round consideration of Magnet applications