Daughter of bodybuilder now leading HISD Food Services
In this week's I Am HISD, which features district students, graduates, employees, and other team members, Food Services Senior Administrator Audene Chung talks about how being the child of a bodybuilder influenced her career choice, what trends she sees on the horizon for school cafeterias, and the one thing she wants parents to know about her department today.
You joined HISD in January as the new senior administrator of Food Services. What is your vision for that department over the next few years? What changes would you like to see in its operations or offerings?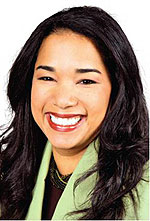 HISD Food Services is a very complex system, one that has so many opportunities to explore. But because it's such an intricate system, it will require a team approach and lots of collaboration. One small change could equal huge benefits or a not-so-good result, so we just have to be considerate of how we change and implement.
That being said, my vision for the department is to connect more with our key stakeholders by opening up and improving communications, to bring more awesome food to our customers, and to build a stronger community network that supports our goal of serving the students of Houston so they can get the best education possible.
In your last position as the national vice president for a large food service management firm, you were responsible for managing more than 6,000 schools across the country. How will that experience help you and influence the decisions you make at HISD?
I worked with many disciplines, from culinary, procurement, and communications to training, development, and marketing. Because of this, I'm quite versed in how to collaborate and bring out the best in these areas. By encouraging experts to do what they do best, you bring out their passion—and when people do what they are passionate about, they typically excel at it—and it makes the organization that much stronger and more extraordinary.
You have almost two decades of experience in the school food services industry. How did you come to be interested in health and nutrition, particularly as it relates to young people?
My interest in health started very young, as my father was a bodybuilder. This really influenced how and what my family ate. I never ate at fast food restaurants or ate any processed foods/convenience foods growing up. My mother would prepare breakfast for myself and my four older brothers each morning and then family dinners at home each night.
My parents always encouraged me to eat breakfast, saying this would prepare me for a day of learning. That basic idea—of eating well to prepare your body and mind to take on a day of school or work—has always stuck with me. At the University of Texas, I found it fascinating that you could study nutrition as a profession. I already felt like I knew how to eat well, so I began to explore the field.
I thought I would go into sports nutrition at first, because that was the ultimate example of using foods to fuel your body to get the performance or a result you desired. But then I really enjoyed working with the Austin school system, and especially, hearing about what the Austin ISD food service director did on a daily basis. I realized school food services offered a mix of nutrition, education, culinary, and business—all the topics I was interested in. 
So, do you consider yourself a "foodie?" 
I do. I'm also an adventurous eater, meaning I will try pretty much any kind of food at least once. I think dining should be an experience—and it doesn't always mean going to a fancy, expensive restaurant. Some of the best meals or dishes I've had were from small hole-in-the-wall joints, local spots, or something someone prepared at home. I am also obsessed with the Food Network; I think it's a fascinating cultural shift to see how popular watching how food is prepared, sourced, and eaten has become. It has really heightened my awareness and appreciation for great food.
What's your all-time favorite thing to eat?
It's difficult to pick just one thing. I really like all Asian foods (Chinese, Japanese, Korean, Thai, and Vietnamese) and Mexican foods. I love tacos—especially fun fusion tacos. But you also can't go wrong with comfort foods like chicken pot pie or meatloaf.  
How about  a favorite recipe?
I would have to say my Mom's roasted chicken. It's so simple, but it just says "home" to me.  And I would give you the recipe, but she just adds a little bit of this and that, so she can't ever really tell me what the recipe is.
What trends have you noticed lately in the industry that you would like to bring to bear in HISD?
Right now, new flavors and types of cuisine are a part of the foods our students are being exposed to in their lives away from school. There is much more Asian influence— from Thai to Vietnamese—we've really moved beyond Chinese food as the only option.
We're also seeing more authenticity in the flavors, as I think students have more sophisticated palates. They want more seasonings and spices, and this is a great way to move away from salt being the only condiment and more into herbs enhancing the flavors of foods.
We also want to incorporate more local products into our menus. There is a huge push to work with local produce/farmers and suppliers to support local businesses and farms.
Another thing that we've started to really strive for is "cleaner" labels, or foods that don't have so many extra additives or a laundry list of ingredients that don't offer any benefits to the actual food. Simple is best, and we are really pushing our food companies to offer products that are higher quality and meet our stringent nutritional requirements.
I know you've only been here a month, so you're still getting your feet wet, but if you could communicate just one thing to parents about HISD's Food Services department right now, what would it be?
We want to hear from you and your children—and we will be doing a lot more outreach to do just that. I particularly want feedback from the students who don't currently eat in the cafeteria. Our focus is on providing tasty, nutritious meals to students; but it's not nutritious if they won't eat it.
We take providing your child with the most nutritious meal possible to fuel them for a day of learning very seriously. And we invite you to come in and try the foods in the cafeteria (or ask your child to try out a meal). You will be so surprised. It's changed so dramatically since you went to school—and even from last year's offerings. 
If you know a graduate, student, employee, or other member of Team HISD who should be featured here, please email us at info@houstonisd.org.