Six employees recognized at June principals' meeting
Superintendent of Schools Terry Grier honored five district employees at the principals' meeting held on June 11, 2014. The following campus leaders and administrators were recognized with Team HISD hats:
LaShonda Bilbo-Ervin, who serves as the principal of Washington HS, for improving her campus' attendance rate (while most other high schools' were falling) and increasing scores on her students' End-of-Course exams in every subject, some by double digits.
Principals Elena Martinez-Buley, Silvia Trinh, and Mayra Ramon, whose exemplary leadership styles at Rodriguez ES, Park Place ES, and Sanchez ES (respectively), have earned them the Bronze Excellence in Urban Education Award this year from the National Center for Urban School Transformation.
Melissa Matsu, who serves as the instructional coordinator at Carnegie Vanguard HS, for handling the complicated logistics involved in offering Advanced Placement Saturday study sessions to ten campuses over a six-week period this spring.
To see a gallery of all the hat recipients, please visit HISD's photo archive.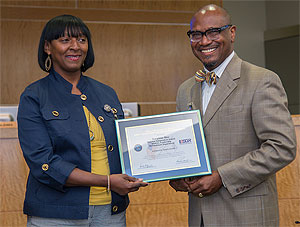 SPECIAL NOTE: A very special Patriotic Employer Award was presented to Assistant Superintendent of Leadership Development Josephine Rice (left) on behalf of the U.S. Department of Defense. Dr. Rice was recognized for her outstanding support of the Mesa family. Captain Alfred Mesa has seen multiple deployments over the past six years, and the Leadership Development team has banded together each time to act as an extended family for one of its trainers, the captain's wife, Kim Golden-Mesa.
Know someone who deserves a shout out? Send an email to

info@houstonisd.org

with the subject line "Shout Out for eNews!" and tell us why.