Summer professional development opportunities offered to elementary teachers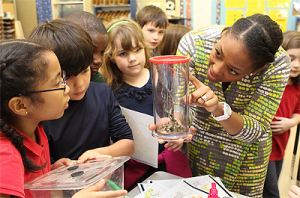 The Elementary Curriculum and Development Department is offering a variety of professional learning opportunities for teachers during the summer. These training sessions are designed to support the district's Literacy by 3 program, as well as math and science instruction.
Participants can discover the many resources available through the district's Marcile Hollingsworth Science Center, or learn more about the "daily CAFÉ" of literacy (which involves Comprehension, Accuracy, Fluency, and Expanding Vocabulary). Click here for descriptions (including registration information) and a full schedule of the sessions.
Additional training to support the Literacy by 3 implementation, including running records and small-group guided reading instruction, math and science content, and Pre-K instruction, will be provided during August pre-service events. Registration and course outlines for those sessions will be provided at a later date.
New Teachers will receive registration information directly from the New Teacher Team or they can email newteachersupport@houstonisd.org.