Nutrition Services employees cashing in with perfect attendance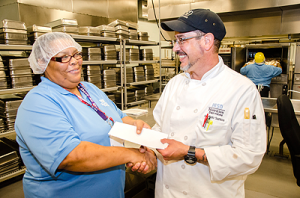 HISD's Nutrition Services department has launched an employee attendance incentive program that will reward employees for perfect attendance. Employees have the opportunity to receive $200 for being at work every day during four award periods.
The program started on Aug. 24, with an average of 48 days in each award period. Employees who miss a day still have a chance to earn money during other award periods.
"We want our employees to know that we appreciate that they are committed to their jobs," Nutrition Services Senior Administrator Audene Chung said. "So employees can earn an extra $800 this year for perfect attendance."
Exemptions have been taken into account for jury duty, subpoenas, funeral leave, and preapproved vacation. Warehouse Auto Selector Ray Brown thinks the program is a great way to motivate employees and help them set work goals. "My goal is to make all $800 this year," Brown said.
Warehouse Manager Abdoul Ly believes the incentive will keep employees motivated throughout the year. "I'm already seeing the motivation," Ly said. "Our attendance record has been perfect."
Executive Chef David Husbands is very happy with the direction Nutrition Services took with this program. "I think we all deserve incentives in our jobs," Husband said. "In the past, I had nothing to reward my staff's passion, and now I can tell them 'Hey, here's an extra $200. Great job!'"
Nutrition Services employees have taken notice and are excited about the program. Food Service Attendant Maria Carranza is happy for the opportunity to receive extra cash. "I love it," Carranza said. "I come to work every day and it's nice for our managers to recognize that."
The incentive program has also been adopted by the Transportation and Construction and Facilities Services departments to reward HISD's best assets — its employees.
"This program was developed in consultation with all departments so that hourly workers could earn incentive pay," added Houston Education Support Personnel (HESP) President Wretha Thomas. "We worked with HISD to develop a plan that meets each department's needs. HESP and HISD will continue to partner to bring ideas to improve and expand the program."