HISD's young minds power Robotics Showcase
During the past summer, Stephanie "Spoony" Witherspoon and some colleagues were discussing preparation for UIL robotics competitions. The conversation went off on a tangent, and the group soon began chatting about how they could help other HISD campuses begin their own robotics programs.
That's when the idea for the HISD Robotics Showcase was born. So students from all grade levels gathered at the Hattie Mae White Educational Support Center on Sept. 11 to show off and describe their programs to attendees. They demonstrated their current projects, which included drones and remote-controlled robots.
Witherspoon, a CTE teacher at Waltrip High School, said she hopes more HISD campuses start their own robotics programs because of the educational value they provide.
"We are preparing students for the 21st century, and robotics is 21st century," Witherspoon said. "It teaches teamwork and communication and problem-solving skills. It's tying in with the Global Graduate profile. And robotics is this nice, neat, little educational package."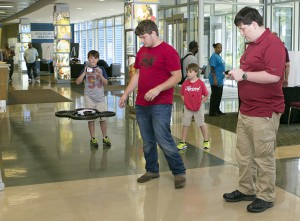 While the Robotics Showcase was a chance for campus leaders to directly inquire about starting their own programs, Witherspoon also invites them to visit the robotics community on the HUB. The page allows teachers to share their own ideas, ask questions of others, and provide information about starting a program.
"Teaching is kind of an isolated job," she said. "You don't get to talk to your colleagues all day long, because you're talking to your clients — your students — all day long. We want this to be a rich resource page where we can learn from one another."