Jane Long Academy teacher recognized by Telemundo, Chick-fil-A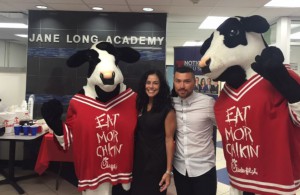 Telemundo and Chick-fil-a continue their partnership with HISD by recognizing Jane Long Academy's Fidel Andrade as their Teacher of the Month for May.
Andrade, who served in the Army for 10 years, is a Spanish teacher and also serves as the school's soccer coach. In his nomination form, Andrade is described as a "dynamic" teacher who also keeps his students motivated. And while his teaching skills are key to his success, Andrade also creates personal connections with his students to ensure they're doing well outside of the classroom as well.
To recognize Andrade for his outstanding work, Chick-fil-A and Telemundo recently surprised him with a catered breakfast for his students and recognition during a Telemundo broadcast. You can watch the video by clicking here.