Dinner is served at the Marketplace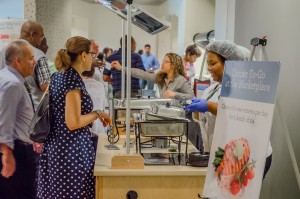 Grocery shopping and preparing dinner can be quite an endeavor for HISD employees after a 10-hour work day.
With that in mind, the Nutrition Services' catering department is offering Hattie Mae White Educational Support Center employees a quick and easy option with its Dinner-to-Go menu now available at the Marketplace.
Nutrition Services Chef Trainers Chiquita Coleman and Brittany Jones offered samples recently of the new dinner options.
"These meals come fully cooked in a microwaveable container," Coleman said. "Pop it in the microwave to heat it up, and, bam, dinner is done."
The Dinner-to-Go menu includes blackened chickenalfredo, homemade meat lasagna, fried chicken, fajitas, rotisserie chicken, and flank steak. Side dishes are also available for purchase to make a complete meal.
"We have mac and cheese, mashed potatoes, green beans, charro beans — everything to make a great dinner," Jones said.
Marketplace Operations Manager Timothy Marsh has sold out of the Dinner-to-Go meals for two weeks straight.
"The word is spreading throughout Hattie Mae White," Marsh said. "We are providing a tastier alternative without the hassle of cooking after a long day of work."
Nutrition Services Special Events Planner Priscilla Martinez said the Dinner-to-Go program is piloting this summer with the possibility of implementing it for the new academic year.
"The Dinner-to-Go entrees are flying off the shelf," Martinez said. "They are inexpensive and help our busy coworkers finish their day with ease."
Melody Montgomery, a magnet coordinator at Fondren Middle School, is a repeat customer of Dinner-to-Go and gives it high marks.
"These dinners taste great, they are affordable, and I don't have to rush home to cook it," Montgomery said. "This dinner will easily satisfy my family of four adults."
Dinner-to-Go can feed a family of up to four and range in price from $6.99-$12.99, with sides from $1.50-$2.99. The Marketplace's summer hours are from 6:45 a.m.-6 p.m. Employees are encouraged to purchase their Dinner-to-Go meal early, as dinners sell out fast.