HISD principals coordinate 'unconference' for campus leaders to network, share best practices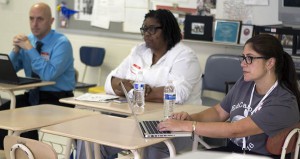 Nearly 100 campus leaders from HISD, the greater Houston area, and across Texas gathered Monday at Bellaire High School to engage in a different kind of professional development.
A group of HISD principals and staff organized EdCamp Leadership Texas, a meeting of educational leaders from across Texas where they could ask questions, share insights, and network among peers they normally would not be able to connect with.
"All these leaders get to connect and get new resources," said Sandra Menxueiro, principal at Farias Early Childhood Center and one of the organizers. "There's a technology revolution in schools, and we want them to join. Join Twitter, join our (#HISDAdminChat on Twitter) and get connected to people and resources you wouldn't otherwise. It starts with the leaders. This is about innovation and not being in silos."  
Dubbed the "unconference," EdCamp Leadership Texas gave attendees a chance to create their own discussions within breakout sessions. Educators attended the sessions that interested them, and they were encouraged to add their own thoughts or questions to help fuel the discussion. Topics ranged from how to configure learning spaces to benefit students to guided reading techniques to incorporating technology in the classroom.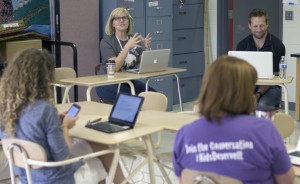 "Just start the conversation," Bellaire High Principal Michael McDonough told attendees during his opening remarks. "You don't have to be an expert. You can just facilitate."
Kharima Richards, an educational consultant who helps organize EdCamps, said the ultimate goal was connecting attendees with people who could provide different perspectives than what they find within their own districts.
"You tell us what you want to learn and we reach solutions," Richards said. "You're making connections locally and globally."