Team HISD: Volunteer for Read Houston Read  
All it takes is one hour a week — either in-person or virtually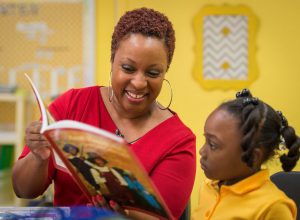 Making sure all students are reading at or above grade level by the end of third grade is the mission of HISD's Literacy by 3 initiative. But our elementary teachers on the front lines in the classroom can't do it alone. They need the help of everyone on Team HISD. 
HISD employees are encouraged to become volunteers for Read Houston Read, the district's volunteer effort to provide reading mentors for elementary school students. All it takes is one hour a week — either in-person or virtually — and you can help a student get on the path to literacy success. For more information on the program and a list of participating schools, visit www.readhoustonread.com.
In order to volunteer, employees must have supervisor approval using this form. This year, hourly employees will need to enter time via OneSource ESS and request "off campus duty" for the time each week they are volunteering  plus traveling to and from a school.  Volunteering for Read Houston Read does not include in-district mileage reimbursement for employees .
Employees who volunteered in person during the 2015-16 school year can go directly to www.connect4literacy.org to sign up for volunteer opportunities.  Those who volunteered online last year, must re-register at http://tutormate.org/register and click the box that says "Did you tutor last year with us."