In Memoriam: Martha Prieto, 1954-2017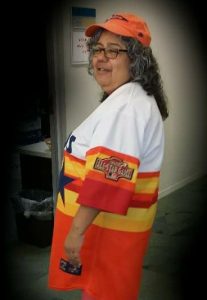 Team HISD is mourning the loss of Martha Prieto, who passed away on Friday, Feb. 24, 2017. She was 62.
Prieto joined HISD in 1979 and started as an Accounting Clerk before moving to a Payroll Technician position in 2000. She worked with employees who were retiring to ensure a smooth transition. Prieto could often be seen wearing jerseys to support her beloved Houston Astros during playoff runs.
"Martha was such a loving person and thought of others before herself," said Payroll Manager Robert Robinson. "She will be truly missed. Our thoughts and prayers go out to her family."
Visitation will take place from 5-8 p.m. Tuesday, Feb. 28, at Compean Funeral Home, 2102 Broadway Blvd, 77012, with a prayer service at 7 p.m.
The funeral service will be at 10 a.m. Wednesday, March 1, at Compean Funeral Home, and the Rite of Committal ceremony will follow at Forest Lawn Cemetery, 8701 Almeda-Genoa Road, 77075.