Tickets on sale now for May 19 banquet
Event honors Teachers and Principals of the Year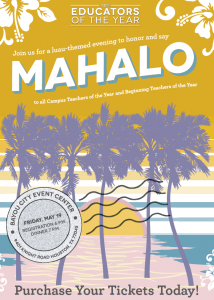 HISD recognizes teaching excellence across our district through the Teacher of the Year (TOY) awards celebrated at the annual HISD Educator of the Year banquet. The year's banquet is "luau-themed" and will recognize the district's campus TOYS, Beginning TOYS, Principals of the Year, and other special recognitions.
HISD Educator of the Year Celebration
Bayou City Event Center
9401 Knight Road
Houston, Texas 77046
Grand Ballroom
Friday, May 19, 2017
Registration 6:00 P.M. — Dinner 7:00 p.m.
$50.00 per person — $500 table of 10
Every school is encouraged to purchase tickets for your campus TOY and one guest, BTOY honoree and one guest, as well as additional tickets for the campus/community team who will attend to support your campus honorees. Tickets are $50 per person.
To provide an opportunity for all schools and honorees to participate, schools will be limited to the purchase of 10 tickets per campus. Tickets must be purchased by April 28, 2017, by submitting an EOY Ticket Request form and submitting payment through MOTE transfer using a Transfer of Expenditures Request Form.
The 14 District Teacher of the Year finalists and other honoree winners will receive complimentary tickets issued from Strategic Partnerships. All honoree finalists and winners and their principals will be notified.
If you have questions, please contact:
Event Tickets – Tanya Mackey or Tina Thompson, Strategic Partnerships, 713-556-7200
MOTE Process – Patricia Batiste (pbatiste@HoustonISD.org), Strategic Partnerships, 713-556-7200
Teacher of the Year – Professional Development Services – TOY@houstonisd.org, 713-696-0600