Dave & Buster's offering free food, games to HISD police on May 2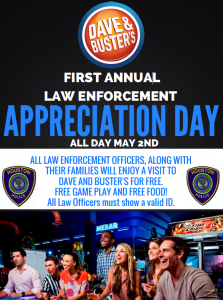 Dave & Buster's is offering a free buffet meal and an unlimited video game power card to HISD police officers and their families in recognition of the restaurant's first annual Law Enforcement Appreciation Day on May 2.
All three Dave & Buster's locations are participating, and the perks are available to all Houston area police officers with a valid ID.
"We are fortunate to have many supporters of law enforcement in the Houston area and this event is an excellent example of that," said HISD Police Chief Robert Mock.
Dave & Buster's also will host a raffle with proceeds benefiting the "Assist the Officer" program, which helps officers who face financial hardship due to a serious injury, life-threatening illness or other event. Among the items being raffled off are tickets to the Houston Improv and AMC Theatre in Sugarland.
Dave and Buster's Special Events and Sales Manager Alice Smith said she is excited about the new event.
"This year we really wanted to show appreciation for all of our brave men and women in law enforcement, give them a little down time with their loved ones and family members," Smith said. "This is our first year and we look forward to seeing the event grow."
For more information, please contact Alice Smith at alice_smith@daveandbusters.com or visit the Dave and Buster's Facebook page at https://www.facebook.com/events/499977153724670/ .