What's the buzz on OnTrack?
Teachers and students raving about new assessment platform
Teachers and administrators undergoing training for OnTrack, the district's new assessment platform, are raving about the new system. OnTrack, which is replacing EdPlan, will launch districtwide during the 2017-18 school year, but staff undergoing summer school training are becoming familiar with the new platform.
Some are even taking to Twitter and using the hashtag #HISDOnTrack to sing their praises. See what Kristina Lopez, the Assistant Principal at Hartman Middle school recently tweeted out.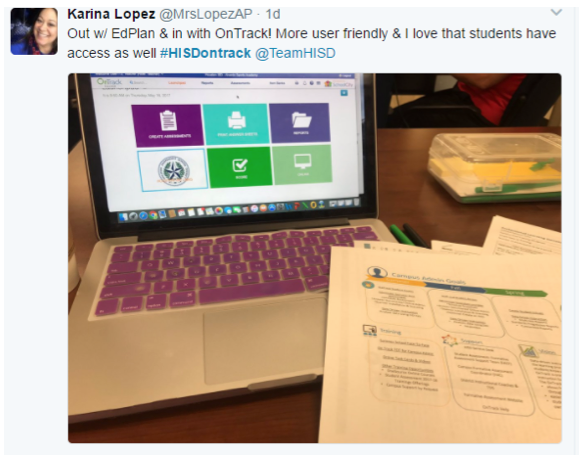 A group of 18 elementary, middle, and high schools across the district piloted the new system this spring, and the positive reaction from staff and students has been overwhelming.
"I love that there is a dashboard for students and that the students are able to take ownership of their learning," said Heights High School Principal Connie Berger.
Check out the video below to see what else staff and students at Heights High School are saying about their experience with OnTrack.
[su_vimeo url="https://vimeo.com/212645892″]