Sharpstown HS accounting teacher tallies 30 years of helping students find careers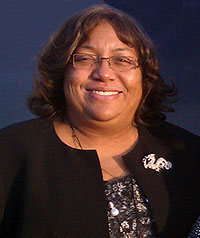 Rosetta Calhoun, the director of Career and Technology Education at Sharpstown High School, observed her 30-year anniversary with the district in early December.
This veteran educator has spent her entire career working with students to refine the skills that will help them in business—the first 25 at Westbury HS and the last five at Sharpstown.
"Over the years, I have taught accounting, business law, computer applications, record-keeping, and even typing, before there were computers," " said Calhoun, who followed in her parents' footsteps by becoming a teacher. "The most gratifying thing is when students who graduated come back and say, 'you made a difference in my life,' or 'I went into accounting because of you.'"
Many other HISD employees are also marking milestones in December—see if you know anyone on this list:
25 years
Cecil Collins, bus driver, Transportation Services
Margaret De La Rosa, secretary, Reagan HS
Rolando Flores, police officer
Ricardo Garza, senior plant operator, Lamar HS
Genevieve Hill, teacher, Memorial ES
Paula Ishop, Food Services attendant
Carolyn Lewis, HR business partner
Anna Leblanc, unemployment compensation representative, Benefits
Cleo Malveaux, Food Services attendant
20 years
Richard Barajas, school support officer, High Schools Office
Patricia Beavers, teaching assistant, Pershing MS
Sharon Brown-Mitchell, teacher, Stevenson MS
Rose Carney, Food Services attendant
Susan Clamurro, registrar, Westbury HS
Beatriz Cruz, Food Services attendant
Herlinda Guzman, teaching assistant, Carrillo ES
Maria Garza, Food Services attendant
Pamela Guillory, manager, Food Services School Kitchens
Ruth Grayson, Food Services attendant
Michael Henderson, maintenance repairer , Construction and Facilities Services
Beverly Johnson, teacher, Petersen ES
Brenda McCann, plant operator, Key MS
Debra McDonald, bus driver, Transportation Services
Shawn McMahan, teacher, Horn Academy
Angela Rockett, clerk, Burrus ES
Lidia Sanchez, clerk, Grissom ES
Bedennia Shabazz, bus driver, Transportation Services
Faustina Stevenson, teacher, Welch MS
Wanda Thomas, senior analyst, Federal and State Compliance
Diana Torres, secretary, Sharpstown HS
15 years
William Caldwell, senior accountant, Property Management
Santos Castillo, custodian, Briargrove ES
Elizabeth Curbow, teacher, Crespo ES
Michele Foley, teacher, Pershing MS
Cynthia Guillory, routing technician, Transportation Services
Ora Gaines, Food Services attendant
Martha Garcia, teaching assistant, Las Americas MS
Theresa Lee, senior secretary, Office of the Inspector General
Trudy Linden-Craft, clerk, Finance General Accounting
Jonel Lockler, senior business analyst, Information Technology
Patricia Lufsey, clerk, Stevenson MS
Bridget Moore, senior analyst, Payroll Department
Cruz Olivas, teaching assistant, Project Chrysalis MS
Rashonda Palmer, counselor, Herod ES
Diane Roberts, teacher, Brookline ES
Lazette Smith-Johnson, teacher, Madison HS
Bobbie Thomas, secretary, Houston Gardens ES
Marilyn White, Food Services attendant
Barbara Wilkins, associate teacher
10 years
Drusilla Bean, teaching assistant, Browning ES
Karen Frenny, custodian, Kashmere HS
Martha Guerra, custodian, Deady MS
Linda Hudson, teacher, Codwell ES
Catherine Jack, teacher, Revere Middle School
Theodore Landa, warehouse, Food Services
Barbara Landry, teacher, Windsor Village ES
Albert Mapps, bus driver, Transportation Services
Vincent Melvin, teacher, Henry MS
Deborah Morice, nurse, Red ES
Brenda Munoz-Hernandez, teacher, Love ES
Goke Ogunmokun, teacher, Reagan K-8 Ed Center
Maria Reyes, Food Services attendant
Kevin Ruffin, police officer
Eleazar Sanchez, IT customer service representative, Rice MS
Shirley Savoy, Food Services attendant
Patrick Stapleton, teacher, Jefferson ES
Ruey Stephens, teacher, Furr HS
David Tesch, teacher, Herod ES
Manoj Thomas, teacher, Burbank MS
Claudia Tiu, Food Services attendant
John Vasquez, history, Pershing MS
Marvin Weatherspoon, associate teacher
Tracy Williams, teaching assistant, Farias ECC
Gina Wilkins, assistant principal, Whidby ES
Delois Woodard, associate teacher
5 years
Shannon Allen, associate teacher
Emelda Bell, bus driver, Transportation Services
Vanessa Benitez, clerk, Hamilton MS
Maria Bernal, bus drivers, Transportation Services
Maritsa Castro, teacher, Neff Early Learning Center
Linda Chang, teaching assistant, T. H. Rogers MS
Cecil Collins, bus drivers, Transportation Services
Daisy Cruz, clerk, Ketelsen ES
Michael Dudas, Magnet coordinator, Austin HS
William Fletcher, teacher, Wainwright ES
Luz Gonzalez-Medina, teaching assistant, Piney Point ES
Liliana Guerra, teaching assistant, Williams MS
Twanna Jackson, Apollo 20 tutor, Young ES
Charlenette Jones, teacher, Garden Villas ES
Trupti Kanchanwala, Food Services attendant
Hector Luevanos, teacher, Fonville MS
Berlin Marshall, JROTC administrator
Blanca Martinez, custodian, Jackson MS
Roosevelt McClendon Jr, crossing guard, Harvard ES
LaVondia Menephee, teacher development specialist
Tekisha Miles, police officer
Catherine Ray, associate teacher
Rosa Reyes, teaching assistant, Jackson MS
Ricardo Rios, custodian, Pin Oak MS
Burley Robinson, crossing guard, Dodson ES
Vilra Salinas, investigator, Transportation Field Safety
Claudia Sanchez, teacher, McReynolds MS
Lilia Sandoval, aide, Braeburn ES
Khloud Telfah, Food Services attendant
Donna Tolopka, clerk, Westside HS
Dora Treviño, custodian, Harper Alternative
Gerard Vacca, teacher, HSPVA
Blanca Vazquez, Food Services attendant
Hugh Waddell, teacher, HSPVA
Donald Williams, bus driver, Transportation Services
Lester Williams, custodian, Farias ECC
Roxanne Willis, associate teacher
Georgia Wiltz, teacher, West Briar MS
Check back next Friday for more December Milestones – and if you know someone who should be featured in this space, let us know at

info@houstonisd.org

. Leave a comment below if you'd like to congratulate any of the above employees.