Tickets on sale now for Educators of the Year banquet
Event honors Teachers and Principals of the Year
*Please check this page periodically for updates*
HISD recognizes teaching excellence across our district through the Teacher of the Year (TOY) awards celebrated at the annual HISD Educator of the Year banquet. The year's banquet is "royal wedding-themed" and will recognize the district's campus TOYS, Beginning TOYS, Principals of the Year, and other special recognitions.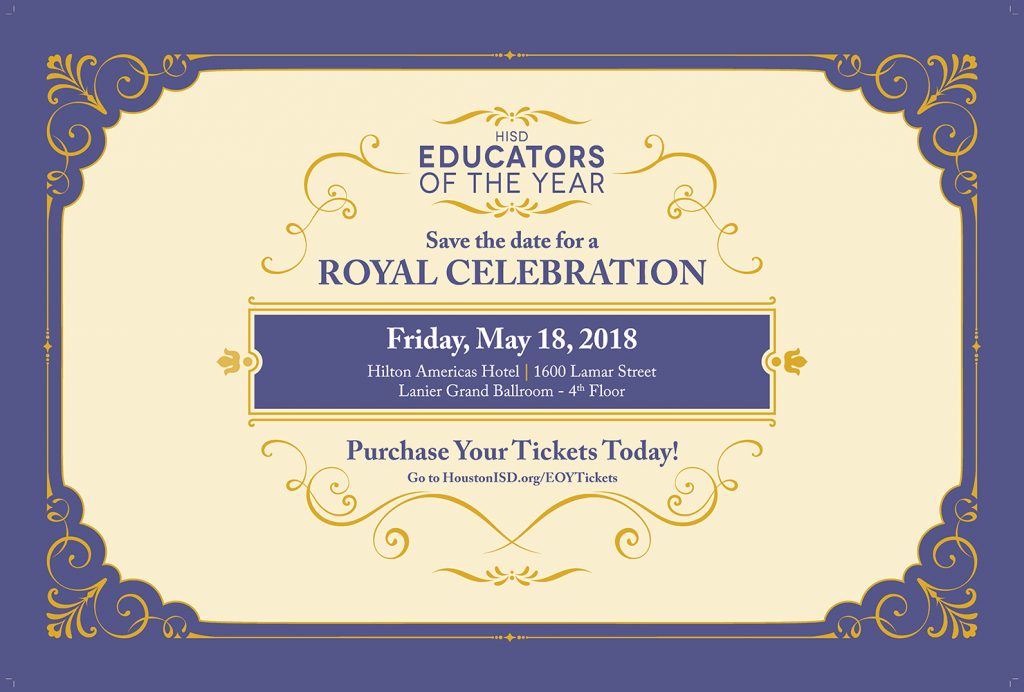 HISD Educator of the Year Celebration
"A Royal Celebration"
Hilton Americas Hotel
1600 Lamar Street
Houston, Texas 77010
Grand Ballroom
Friday, May 18, 2018
Reception: 6:00 p.m.
Dinner and Program: 7:00 p.m.
$65.00 per person — $650 table of 10
Attire: Royal Best (semi-formal)
Every school is encouraged to purchase tickets for your campus TOY and one guest, BTOY honoree and one guest, as well as additional tickets for the campus/community team who will attend to support your campus honorees. The event will honor our educator honorees in an adults-only evening.
To provide an opportunity for all schools and honorees to participate, schools will be limited to the purchase of 10 tickets per campus. Tickets must be purchased by Friday, April 20, 2018, by submitting an EOY Ticket Request form and submitting payment through MOTE transfer using a Transfer of Expenditures Request Form.
The 14 District Teacher of the Year finalists and other honoree winners will receive complimentary tickets issued from Strategic Partnerships. All honoree finalists and winners and their principals will be notified.
Create your royal sash
In alignment with the theme of the royal affair, we invite each school to provide the campus TOY with a royal sash (decorated cloth to drape over-the-shoulder and attach at opposite waist) that they can wear to the event. Be creative and elegant in designing your TOYS royal sash – incorporating school colors, representation of TOYs honor, etc. For samples, click here.
Parking:
Valet: $19 at front of hotel, 1600 Lamar Street entrance (map)
Self-park: $13 at 1701 Polk Street entrance (map)
Payments accepted at:
Ground floor kiosk with cash or credit card
Garage exit with credit card only
Table with attendants at second floor walkway entrance by credit card only
Hotel Reservations:
The Hilton Americas Hotel has offered a great discounted rate for the hotel rooms on the evening (and weekend) of the HISD Educator of the Year event. This can be a bonus get-away (stay-cation) opportunity added to enjoying the festivities of the event.
There are a limited number of rooms held in the HISD discounted block. The cost of the hotel room is $109.00 (single/double occupancy) and higher for up to 4 occupants.
If you would like to stay the evening or weekend, use the below information to personally reserve a room, while rooms are available. All room rates, taxes, parking fees, food and/or other fees/expenses incurred are at the expense of the individual employee(s). HISD does not assume any financial responsibility.
Hotel block link: https://book.passkey.com/go/HISDEducatoroftheYear
Code: 1HI
Campus EOY Ticket Pick-up:
Purchased tickets will be available for pick up at Hattie Mae White, 1W (Strategic Partnerships front desk) on Friday, May 11 and Monday, May 14 from 8 a.m.-5 p.m. The principal or designee should pick-up tickets and distribute. Honoree complimentary tickets will be included in the school envelops to be provided to the honoree (TOY, BTOY, LOY, etc.). Tickets will not be available for purchase at the door.
If you have questions, please contact: