Nutrition Services employee receives first customer service impact award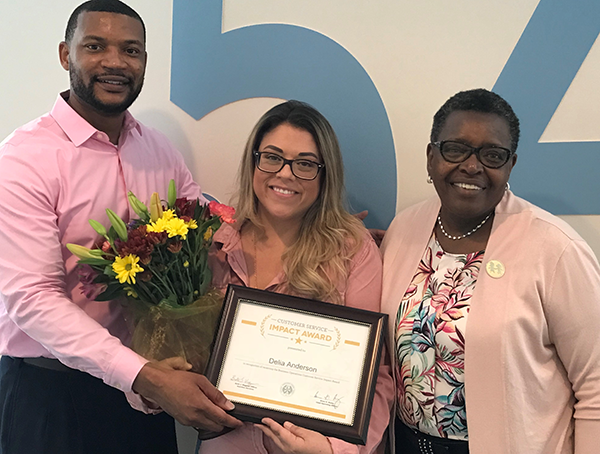 Delia Anderson has received the first Customer Service Impact Award for providing stellar customer service in her role as senior administrative assistant in Nutrition Services.
The new monthly award recognizes HISD Business Operations employees who display exemplary performance, deliver fantastic customer service, and regularly go above and beyond to add value to their division and positively influence co-workers.
"Delia steps in and does whatever is necessary. She is the personification of our mission," Nutrition Services Officer Betti Wiggins said. "It's not about a job description, it's about our mission to serve good food."
Operations Manager Kory Keimig nominated Anderson for the award, explaining that she was instrumental in helping to roll out a new serving program at a school.
"She took time out of her normal duties and volunteered to go to the school and help every day for a week," Keimig said. "There is never a time when Delia doesn't smile when she sees you, or doesn't go out of her way to help someone. Her positive attitude is infectious."
Anderson has been with HISD for two years and is responsible for providing administrative support for Nutrition Services Operations, reporting to Sr. Area Manager of Operations Keith Lewis.
"Delia goes above and beyond every single day," Lewis said as he presented a framed certificate and a bouquet of flowers. "This award is well-deserved."
Holding back tears, Anderson thanked the operations managers for their support.
"I never expected the spotlight to be on me," she said. "This means a lot. I feel honored and grateful, and I'm looking forward to a great year."
Finalists for the September award were HISD Police Detective Sonia Quintanilla, Facilities Services Senior Administrative Assistant Sherry Jones, and Business Operations Support Customer Service Representative Breana Franco.
Nominations are now being accepted for next month's award.
More information on Business Operations Customer Service Impact Award