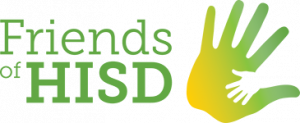 If you believe in HISD and want to support the critical work the district is doing for Houston's children, consider becoming a Friend of HISD.
No, not a Facebook friend. This is a new group of generous community members who want to make a direct, meaningful impact on the lives of children.
Superintendent Richard Carranza introduced the Friends of HISD in his address at the 2017 State of the Schools.
"I am here to tell you that we must invest in every child," he said. "They are our future leaders, engineers, entrepreneurs, and computer programmers. They are the fulfillment of Houston's enormous potential."
The work HISD's public educators do every day to prepare the district's 216,000 students for college and career is indispensable, and an investment as a Friend of HISD will help them do even more.
$100 will buy books for students to build home libraries, helping to combat the literacy crisis in Houston and ensure every child is reading at or above grade level by the end of third grade.
$250 will buy college textbooks for dual-credit high school students earning an associate degree, making higher education accessible to all students and allowing them to jump right into a career or continue their studies at a four-year college.
$500 will support the purchase of Google Chromebooks for middle school students to help transform teaching and learning by personalizing instruction and allowing 24/7 access to digital resources.
$1,000 will support the purchase of high-tech simulators that give students hands-on, real-world experience in high-demand career fields such as health science, architecture and construction, and manufacturing and engineering.
One of the perks of becoming a Friend of HISD to getting to see firsthand the work being done by visiting classrooms and meeting top educators.
Become a Friend of HISD today and make an investment in children and the future of Houston.
To donate, go to HoustonISDFoundation.org/Friends.
The Houston ISD Foundation partners with HISD to raise private funds to support districtwide and school-based programs and initiatives aimed at increasing student academic achievement.