The world's refugees are our children, too
Dozens of families move to Houston every week, inspired by our welcoming reputation, but one family this week, sadly, had to slip into the city.
Four daughters and their parents – Syrians, who had met our government's strict requirements and scrutiny as refugees – were spirited into Houston because of fears for how they would be received. We can only imagine that now they must be feeling some of the same fears in their new "home" that drove them from their old one.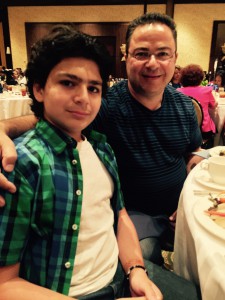 Just a year ago, many in this nation were shamefully refusing to accept an influx of Central American refugee children, who were warehoused in centers after being "caught" trying to make a better life for themselves, often risking their young lives to be reunited with parents.
I said it then, and I say it again today: HISD's arms are open to refugee families from any location. Our job is to educate children. All children.
HISD's Las Americas campus for middle school-age refugee children is a model of how these children and families should be embraced – and what happens to traumatized youngsters when they are shown understanding and encouragement. These families value education. Their children are eager to learn English, to make friends, and to dim the memories of their terrifying childhoods. Children from warring nations become best friends, as they realize how much they have in common.
In recent weeks, as the cry against allowing Syrian refugees onto our shores has swelled, I keep remembering a young Syrian boy I met last year at Las Americas. He had a loving family, a wonderful home, and was receiving a good education when the civil war changed all that. With tearful eyes, he talked about learning how to position himself at night to avoid being hit by the gunfire popping right outside his bedroom. He told a harrowing tale of his family's journey away from everything they had held dear.
Although rebuilding a life is not easy, he treasures everything he has found here in Houston – most of all, the sense of well-being that his family has recovered.
I am determined that this boy – and any others like him who may come our way – will continue to feel that security.
Sometimes, times of social tumult can provide the most meaningful learning opportunities for our youngsters, as well as the challenge of teaching by example. This is one of those times.
We cannot let fear change who we are and what we believe. Simply for political expediency, we cannot undermine the principles of this nation for which millions – including immigrants – have fought and died.
And we absolutely cannot and will not, as a school district and as a caring community, ever turn away a child and a family looking to pursue the fundamental rights to life, liberty, and the pursuit of happiness.