Patterson ES kindergarten teacher celebrates 30 years with HISD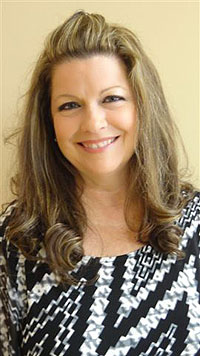 When Lori Hays first started teaching kindergarten at Southmayd Elementary School back in 1983, she didn't plan to be in the classroom for long.
"My plan was to teach for about five years and then get married and have a family," she said. "But as you probably know, life has a way of not going the way you think it will.
Hays, who marked her 30th anniversary with the district last Sunday, described it as "pretty amazing" to realize she had been here for three decades. Even so, the veteran educator says she can't imagine being anywhere else.
"I've been here my whole career," she said. "I'm not going anywhere."
Hays, who has been at Patterson ES for two years now, has also served at Sánchez and Brock elementary schools, as well as the King Early Childhood Center. She graduated from Sam Houston State University with a degree in elementary education.
Many other HISD employees are also marking milestones this week—see if you know anyone on this list:
30 years
Delories Jolly, senior executive secretary, Legal Services
25 years
Sheila Edwards, teacher, Mading ES
Bertha Franco, teacher, Crockett ES
Laura Leroy, teacher, Braeburn ES
Erica Mathis, clerk, Construction & Facility Services
Deborah Miranda, dispatcher, Police Department
Johnathan-Perry O'Brien, teacher, Franklin ES
Rita Peralta, clerk, T. H. Rogers MS
Juan Ramirez, plant operator, The Rusk School
Carolyn Salazar, secretary, Memorial ES
20 years
Eddie Paul, custodian, Jones HS
Sylvia Romo, Special Education employment representative, Westside HS
Maria Salazar, bus driver, Transportation Services
Harriet Smith, teacher, Reynolds ES
Cecilia Wofford, clerk, Almeda ES
15 years
Estela Barrientos, custodian, Cunningham ES
Martha Compean, teacher, Love ES
Sylvia Garcia, teacher, Love ES
Luis Gomez, teacher, White ES
Patricia Guillen, aide, Bush ES
Martha Guzman, secretary, Bonner ES
Robert Lee, teacher, Davis HS
Alicia McAfee, instructional coordinator, Reagan HS
Ruth Ruiz, assistant principal, Ortíz MS
Anthony Thomas, teacher, Furr HS
Tamara Yeldell, evaluation specialist, Child Study
10 years
Betty Bradley, associate teacher
Debra Eisenberg, associate teacher
Joe Gainous, bus driver, Transportation Services
Leisa Glenn, bus driver, Transportation Services
Mary Malone-Garza, Special Education chair, Waltrip HS
Dilbert Prothow, crossing guards
Stephen Wilborn, teacher, Kelso ES
5 years
Corey Buck, bus driver, Transportation Services
Shanti Causey, quality control representative, Food Services
John Coulter II, teacher, Sharpstown Intl. HS
Jessica Macias Delatorre Bocanegra, clerk, Food Services
Brittany Dugas, bus driver, Transportation Services
Shemetria Duncan, generalist, High School Ahead Academy
Karla Gomez, associate teacher
Anna Hyde, teacher, Wilson Montessori
Ronnie Joseph, teacher, Whidby ES
Fidelia Lopez, plant operator, Construction & Facility Services
Sandra Luis, secretary, Barrick ES
Dulce Mancillas, teacher, Burbank MS
Gloria Montes, custodian, Scarborough HS
Janell Nash, teaching assistant, Roberts ES
Sandra Ortiz, teacher, Garden Villas ES
Winford Pugh, associate teacher
Joy Ugboajah, teacher, Hartman MS
Albert  Wright, associate teacher
Cheryl Young, teaching assistant, Young ES
Check back next Friday for more Milestones – and if you know someone who should be featured in this space, let us know at

info@houstonisd.org

. Leave a comment below if you'd like to congratulate any of the above employees.