Brick mason laying foundation of excellence for 35 years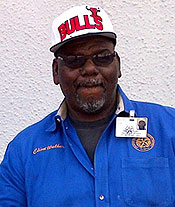 You might not know Clint Walker personally, but if you've ever been to Key Middle School or any of about two dozen other campuses around the district, you've probably seen his handiwork.
Walker is a brick mason who has been laying a firm foundation for educational excellence in HISD for 35 years. He celebrated his official anniversary with the district on June 7.
"I started off as a helper, then became an apprentice, then went to trade school and became a journeyman," he explained. "But I don't want to be any higher, because I love what I do, and I'm sticking to it."
Walker cites some of his finest work as the ceramic tile he laid in the main office at McReynolds Middle School. "I don't do ugly work," he said. "I take my time and do it right." Walker also had the pleasure of donating his time and expertise to his alma mater, Kashmere High School, which installed a tribute to legendary band director Conrad O. "Prof" Johnson several years ago in its SPARK park. Walker graduated from Kashmere in 1979.
Many other HISD employees are also marking milestones this week (June 2–8)—see if you know anyone on this list:
35 years
Christopher Dean, maintenance repairer, Construction & Facilities Services
30 years
Hector Batarse, asbestos abatement team lead, Construction & Facility Services
Jean Mayes, counselor, Austin HS   
25 years
Richard Gutierrez, officer, Police Department            
Denise Pitre, teacher, Madison HS          
20 years
Minh Do, senior construction auditor, Office of the Inspector General
Charles Myers, sheet metal worker, Construction & Facility Services
15 years
Arvis Allen, custodian, Johnston MS       
John Gerwin, internal audit  manager, Office of the Inspector General
10 years
Renee Canizaro, teacher, Parker ES            
Larry Green, maintenance repairer, Food Services     
Roy Johnson, associate teacher           
Beatriz Rivas, custodian, Garcia ES            
Derek Thomas, mechanic, Transportation Services
5 years
Leslie Baylis, manager, Food Services
Cynthia Brown, officer, Police Department            
Shirley Brown, security guard, Police Department            
Sheryle Crowe, account/budget clerk, Medicaid/Property Management       
Kim Yvonne Golden, trainer, Professional Development
Mwamba Justin, academic tutor, Liberty High School          
Assol Kavtorina, magnet coordinator, Furr HS             
Matthew Laday, teacher, Cullen MS         
Tammy Lovse, teacher, Petersen ES         
Wilda Montgomery, teacher, Liberty HS          
Edward Parker Jr, custodian, Teledyne Administrative      
Brandon Senegal, school business manager, Jordan HS
Rosa Soto, officer, Police Department
Check back next Friday for more June Milestones, and leave a comment below if you'd like to congratulate any of the above employees.