McReynolds MS teacher achieves success by 'beginning with the end in mind'
In this week's I Am HISD, which features district students, graduates, employees, and other members of Team HISD, McReynolds Middle School teacher and Chess Academy Director Robert Myers talks about how he became a nationally certified chess coach, which personal achievement makes him the proudest, and whom he'd love to play against someday.
Over the ten years you've been with HISD, you've taught speech, debate, photojournalism, public speaking, and now computer application technology. You also serve as the chess coach at McReynolds MS and the freshman basketball coach at Chávez HS, but I hear you worked as an on-air personality for KSBJ for about 20 years before that. Why did you give that up to be in education?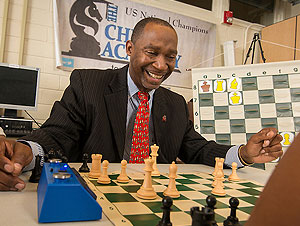 It was my son. When he was little, his mother had bought him some Tweety Bird tennis shoes that she thought were cute, and he was getting teased about them at school. He didn't like it, and he told me about it in the car one day. I asked him what the teacher did to stop it, and he said, "Daddy, she do nothing." Then he said, "Daddy, I wish you were my teacher." And when he said that, it was a wrap for me. It just synched.
At that time, Dr. Rod Paige was still the HISD superintendent, and I had just interviewed him for the radio on a Monday. But by the end of the week, I'd already been hired at Milby High School, and they wanted me to start the following Monday.
I understand you also serve as the director of The Chess Academy. How long have you been interested in chess, and how old were you when you first learned to play?
I've been interested in chess all my life, but I only got serious about it about 12 years ago. My now 25-year-old son, who was 12 or 13 at the time, asked me to play one day, and then proceeded to beat me 30 games in a row. So I said, "Okay, let's do this again." And I started using the pieces in combination to attack. He's been trying to beat me ever since.
Why should today's kids consider learning the game?
Chess is the game of life. It's the best game in the world. It has everything: hidden opposition, deception, strategy, thinking before you move, responding instead of reacting, critical thinking skills, and working your way through a problem. Everything is there. Ten to the 25th power is the number of nanoseconds since the Big Bang. Ten to the 75th power is the number of known atoms in the universe, and ten to the 250th power is the number of possible moves in a single game of chess. It is harder to become a grand master than it is to earn a PhD.
Last year, you had a six-year-old kindergartner win first place at the United States Chess Federation's National K-12 Chess Championship and a team win the All-Girls State Championship at the Louisiana State Chess League for the third consecutive year. Out of all your students' accomplishments, which one pleases you the most?
Well, there's one kid who was a numbskull. When he was a ninth-grader, there was a tenth-grade girl he was trying to talk to in the hallway, and she wouldn't give him the time of day. His diction and grammar were just terrible. But he started learning chess and eventually, he won a $100,000 chess scholarship to Texas Tech. And that girl is chasing him down now. His name is Adrian Patterson, and he's one of my coaches. I hired him. I'm the most proud of him.
To what to you attribute your success, both in the classroom and on the chessboard?
I'd like to say it's a gift, or my witty banter, but it's got to be God, because it sure isn't me. It's like that old saying about the tortoise on a fence post. I don't know how I got here, but I know I didn't get here by myself. I just set myself on fire and the kids come and watch. But there's a lot of prayer, and dedication, discipline, and desire. And in everything I've ever taught, you've got to begin with the end in mind. In chess, checkmate is the ultimate goal; in math, it's the solution to the problem; in photography, it's how you want the image to look; and in public speaking, it's how you want your audience to respond. If you begin with the end in mind, you'll succeed.
You've earned a number of recognitions yourself over the years, including Teacher of the Year and HISD's own Elizabeth Brand Memorial Award. Which one makes you the proudest?
You know, I've been named Teacher of the Year at every campus I ever taught at, but the thing that's most impressive to me is the school yearbook. Every year, the students vote for the coolest, smartest, funniest, and best-dressed teacher, and pretty much every year, I win all of those.
In April of 2013, you were designated a Level IV (National) Certified Chess Coach by the United States Chess Federation—making you the only one in Texas and one of only eight (now nine) in the entire world. What drove you to obtain that certification and why was it so important to you?
Here's the thing: it's about what you say versus what you know. It's one thing to say, "I'm a Level IV coach," but where's the proof? Once you have the certification, you have the paper to back it up. A lot of people coach, but they don't coach on the same level I do. This way, I can say that only eight other people in the world know as much about coaching chess as I do.
Over the years, you have met some pretty accomplished chess players, including Grand Masters Timur Gareev, Hiraku Nakamura, Susan Polgar, and Julio Sadora. Which one left you the most star struck, and who is still on your wish list to meet? Do you have a dream opponent?
You know, these guys are great, but they're just regular people. And when I'm at a tournament where they are, they are usually so many kids around me, that they're wondering who I am.
Hiraku Nakamura is number four in the world, an amazingly humble yet highly intelligent guy. Susan Polgar is as smart as she is beautiful. Timur Gareev is the funniest and coolest guy around, but Julio Sadora has to be, by far, my man. They all act as consultants for us, but he calls and talks to us on Skype all the time.
I'd have to get in a time machine to play my dream opponent, because he's dead, but that would be Bobby Fischer. I'd also like to play Garry Kasparov, who played against Deep Blue, and Magnus Carlsen. He is amazing.
If you know a graduate, student, employee, or other member of Team HISD who should be featured here, please email us at info@houstonisd.org.