HISD teachers partner with district on development tools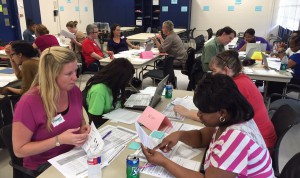 This May, a team of HISD teachers was invited to participate in the Moderated Peer Review (MPR) pilot, a process to review the quality and rigor of teacher-created assessments that will help guide teachers' professional development and increase their effectiveness in the classroom. Participants reviewed end-of-year assessments in their content area of expertise from samples submitted by their peers
The pilot is just one of the actions the district is taking in response to a recommendation made by the Professional Educators Compensation and Support Committee (PECAS), which discussed ways to expand opportunities for teachers to have a voice on how student performance is measured.
"The Moderated Peer Review is giving HISD teachers an opportunity to collaborate with each other and to actively engage in the assessment review process. It is an important step towards developing more robust tools to support their work," said Desiree Lancaster, a Teacher Appraisal and Development System support manager for Professional Support & Development.
Nearly 30 teachers representing 27 campuses were selected from about 100 candidates who submitted applications to take part in phase one of the pilot. The group's work will inform revisions of an assessment scoring rubric and the creation of reference tools with examples that serve as guidance for both teachers and appraisers.
"One thing that makes this process exciting to teachers is that we are working with peers in our same content area on assessments that are also created by our peers," said Rachel Davis, who teaches Pre-Advanced Placement English at Carnegie Vanguard High School. "We've been able to have really in-depth discussions about good assessments and the details of making an assessment stronger. The peer-review pilot refines our ideas about assessment and gives us a solid common language to discuss them."
The second phase of the MPR pilot will launch in the fall. Using the input gathered during phase one, participants then will share those tools with campus peers and the district will develop training sessions to support teachers.