Do you know someone who deserves a Team HISD hat?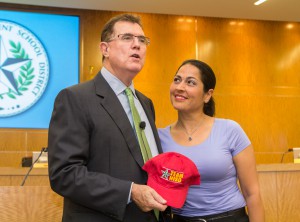 During each quarterly central office staff meeting, HISD gives out Team HISD hats to staff members who go beyond their normal day-to-day job duties to ensure our students receive a rigorous and high-quality education in a safe environment. In the past, we have left the hat nominations up to department managers, but now we want to hear from fellow employees.
Who on your team deserves to be recognized? Who is making a difference in the lives of children each and every day — even though they may not be in the classroom? The following criteria should be considered when employees are nominating someone for a Team HISD hat:
Employees cannot nominate themselves.
Nominees should be of good character, and have a good, positive attitude toward their jobs as well as their department and the district.
Nominee must demonstrate excellence in overall work performance.
Nominee must arrive to work on time and has a good attendance record.
Nominee promotes positive morale through a congenial, supportive attitude, and by providing excellent customer service to others.
Nominee enhances the image of their department and/or the district.
Click here to fill out a nomination form. Be prepared to provide specific examples illustrating why your nominee should be chosen. They could include:
 Volunteering for and working on special projects.
Developing new work methods that reduce waste or stretch resources.
Making creative suggestions that save the department or district time/money.
Providing services to others that are beyond assigned responsibilities.
Improving safety for students and staff.
Nominations will be reviewed by the HISD cabinet and are subject to final approval by a nominee's manager or supervisor.