Central office administrator 'adopts' schools, challenges others to do the same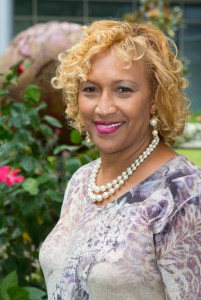 In this week's I Am HISD, which features district students, graduates, employees, and other team members, Special Education Senior Manager Sharon Cole-Braxton talks about how she came to work for the district, what spurred her to begin "adopting" schools back in 2006, and why she is challenging her colleagues to do the same.
According to your LinkedIn profile, you've been with HISD for more than 16 years. What did you start out as, and how has it led you to where you are now?
Actually, I first came to work for HISD in 1991. I started out as a reading teacher at Deady Middle School. I became the assistant principal there in 1994, and part of my responsibilities was overseeing Special Education, so I used a lot of English as a Second Language and Special Education strategies in my lessons. At that time, I thought,"My goodness, I know nothing about Special Education," so I got a Special Education certification. I left the district for a short time because my husband got transferred, but we came back in 1999, and I became a coordinator in Special Education. Later on, I became a director, which is the same thing as I am now, just a different title. So I've been in Special Education for 15-plus years.
Your current title is"senior manager"in the Office of Special Education Services. What does that entail for you on a day-to-day basis?
I support all 283 schools and the Special Education community, including department chairpersons,program specialists, and other managers. My team is responsible for all of the data that goes into the Easy IEP system on approximately 17,000 students. We also coordinate various supports and services, such as music therapy, Special Olympics, archived records, and adapted physical education for the entire district. Most of our responsibilities involve compliance and data in some way.
I understand that you "adopt" a different school every year and then provide whatever support the principal needs. How long has this been your practice, and which schools have you adopted?
This is actually my ninth year, but I adopted some schools for more than a single year. I was at Travis Elementary School for four, but I also adopted Hogg Middle School and Reagan High School. I'll be working with Westbury High School this year.
What inspired you to start doing this? Was there a particular catalyst?
Yes. My grandchildren and godchildren. I was watching my goddaughter perform one day, and I thought,"I love this. How can I be here more?" In administration, our jobs don't always allow us to work with children in a very personally meaningful way. I see their names come across my screen, but in the form of data, which does not allow for the personal connection. So this gives me an opportunity to work directly with kids and campus staff.
I hear that you've also challenged other central office administrators to follow suit. True? And if so, why?
I have, because some of them are like me and don't have young children at home, so they have time to give back. Even if it's not at an HISD school, I encourage them to get involved where they live, because kids need that, and principals need that, too. There are never enough hands or eyes on campuses, and we can give back in those kinds of ways. I like doing things after school or on weekends, because it doesn't take away from my work here, but whatever the principal, AP, or teacher needs me to do, that's what I do.
What has been your best experience with this practice so far?
One field trip we took from Travis was to the capitol in Austin. I took a vacation day and rode the bus with the kids. I loved the trip because even though the bus broke down, we sang songs and stopped at a gas station, got refreshments, and cooled down until another bus came to pick us up. We all talked about our experiences and made friends that will last a lifetime.
If you could offer one piece of advice to others considering doing the same, what would it be?
Connect directly with the principal. Sometimes, principals didn't even know who I was, so I started to connect with them first to let them know I'm not a parent, but for dances or field days, I can participate as an extra pair of eyes and hands. This year, I made a point to connect with the new Westbury principal directly, and she e-mailed the dates and times when extra eyes and hands were needed.