Turning 50 prompts Nutrition Services clerk to drop 50-plus pounds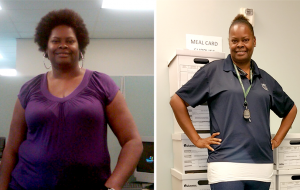 Alissia Pickens was staring down her 50th birthday when she made the decision to lose some weight in 2015. "I always told myself that I wanted to be fit at 50," said the student eligibility clerk with HISD's Nutrition Services department. "And I knew I would be turning 50 in early 2016."
So Pickens took the HISD 4 for $40 weight-loss challenge last year and ended up dropping more than 50 pounds as a result. And she's not done yet.
We sat down with her recently to discuss how she did it, the most challenging aspect of her journey, and what advice she would give to other employees thinking about losing weight. Below is an excerpt from that conversation.  
Q: Let's start with how much you've lost. How many pounds have you shed so far?
A: I've lost 53 pounds and am working hard to lose 50 more.
Q: When did you first to start to see results? How long did it take you to reach your current weight?
A: It took me five months to lose 50 pounds, and 10 months to reach my current weight.
Q: What was the most important change you made to bring about the weight loss?
A: Giving up drinking Cokes and eating out every day.
Q: What is a typical meal for you now?
A: I eat oatmeal and a banana or some type of fruit every morning. At lunch, I eat a chicken salad, and for dinner, I eat whatever I want to, but in small portions.
Q: Are you doing any exercise?
A: I walk five miles, four or five days a week, and work out at the gym. I rotate four or five times a week between cardio exercises (treadmill for 30 minutes and elliptical for 15 minutes), and a full-body workout (hitting several weight machines for an hour and a half).
Q: What has been the most challenging aspect of your weight-loss journey?
A: Working full time and going to school to get my MBA full time. I gained some of the weight back while trying to accomplish my other goals.
Q: How has your life changed now that you have lost weight?
A: It helped me acknowledge that I can attain goals I set for myself. Anything is possible if you put in hard work.
Q: Have you been able to maintain your weight loss, and if so, how?
A: I have maintained the weight loss for five months now and the most important factor for keeping the weight off is exercising three to five days a week and watching what I am eating on a daily basis. Also, I drink plenty of water instead of the soda, juices, and other sweet drinks.
Q: What keeps you motivated?
A: I will be turning 50 in February. I want to be fit at 50 and see my four grandchildren grow up.
Q: Do you have any advice for others who are trying to lose weight?
A: Start walking — two, three, even five miles a day. I started seeing a difference when I would walk seven days a week. After each walk, it made me want to go further and further. But don't do it unless you are truly committed, because this is a lifestyle change and it takes dedication. If you are not willing to dedicate the time and the energy to it, you will not see any results.
You can read more about previous years' "biggest losers" here and here.