Eight-week course helps Nutrition Services employees practice what dietitians preach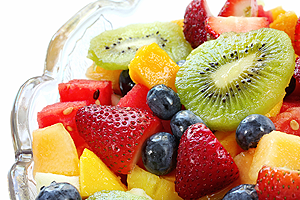 HISD Nutrition Services dietitians don't just share information with district students on the importance of eating right and exercising regularly — they also help their colleagues lead healthier lifestyles.
This will mark the second year that dieticians have offered an eight-week "Slim Down Showdown" course to employees, and 18 members of Team HISD — most of whom work in Nutrition Services — are participating.
"Healthy people make more productive and happy employees," explained Nutrition Services Dietitian Nan Cramer. "The program teaches the basics of a good diet, physical activity, and a healthy lifestyle."
Each class focuses on a different topic, such as meal-planning or exercise, and provides participants with useful tips and practical suggestions.
To avoid getting derailed from weight-loss goals while grocery shopping, for instance, "Shop with a list," advised Cramer, "and don't shop hungry."
People can also continue to dine out by making good choices. Splitting entrees with a friend, eating half of something and then taking the rest home, drinking water or unsweetened tea instead of sodas, and having fruit for dessert are all good options.
Exercising is always a good habit to develop, but if it's just not possible, people can be physically active in other ways. "Take the stairs, park further away from a destination, walk more, or do house and yard work," suggested Cramer.
Charlotte Blocker, who serves as senior administrative assistant in Nutrition Services, expressed excitement about how much has learned so far. "Nan has introduced a lot of strategies," she said. "This has allowed me to take better control of my eating habits."
The Slim Down Showdown continues through April 26.