Briarmeadow Charter School teacher honored for her dedication to special-needs students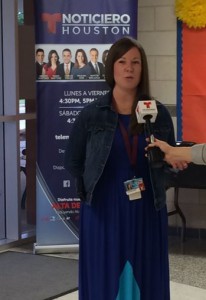 Caroline Marney, a special education teacher at Briarmeadow Charter School, recently was named a Teacher of the Month by Telemundo and Chick-fil-A.
Marney was nominated for her dedication to helping her students learn life skills they'll need in the future as well as providing quality instruction to help them become more independent. That included a recent trip to a grocery store to learn how to shop for food, ordering at a restaurant, and raising money for a class party.
To recognize her outstanding work, Chick-fil-A and Telemundo surprised Marney at her campus with a catered breakfast for her students and recognition during a Telemundo broadcast. You can watch the video by clicking here.
If you would like to nominate a teacher, click here for a nomination form in English or click here for a Spanish version.