HISD leaders travel to Harvard for week-long UDL institute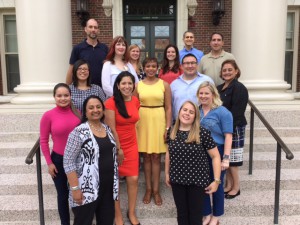 More than two dozen central office and campus leaders attended a conference at Harvard University this week to learn more about how to implement Universal Design for Learning practices within HISD classrooms.
The HISD delegation learned about ways their schools can address its most urgent learning needs and gain practical, hands-on solutions that will help teachers reach, teach, and motivate all students.  
"Attending an event like this gives us the means to develop inclusive learning environments that meet the diverse range of learning differences across all students," said Beth Goodrich, senior manager in the Office of Special Education.
Universal Design for Learning is a set of principles for curriculum that provides students equal opportunities to learn in the form of flexible approaches that can be customized based on their specific needs.
Campus representatives from Neff Early Learning Center, Special Education, Multilingual, Chavez High School, Sam Houston Math, Science and Technology Center, as well as Martinez, Patterson, Southmayd and Tijerina elementary schools attended.