Achieve180 initiative to support underserved and underperforming schools
Teacher Transfer Fair on Saturday May 13
Current HISD teachers who are rated as effective or highly effective are invited to attend an Achieve180 Teacher Transfer Fair on Saturday, May 13 at the Hattie Mae White Educational Support Center. Teachers who transfer to an Achieve180 campus in the primary and secondary cohort are eligible for a proposed $5,000 hiring/retention incentive. Register at
houstonisd.org/A180registration
HISD is launching Achieve180 for the 2017-18 school year, a research-based action plan to support, strengthen, and empower underserved and underperforming HISD feeder pattern communities to increase student achievement. Best practices from successful school turnaround initiatives, including effective teachers, strong principal leadership, and an environment of high expectations for both students and staff, are incorporated into the plan.
Six guiding pillars will provide the strategic framework for the transformational work that will be done within and throughout targeted feeder patterns. The pillars include: leadership excellence, teaching excellence, instructional excellence, school design, social and emotional learning support, and family and community empowerment.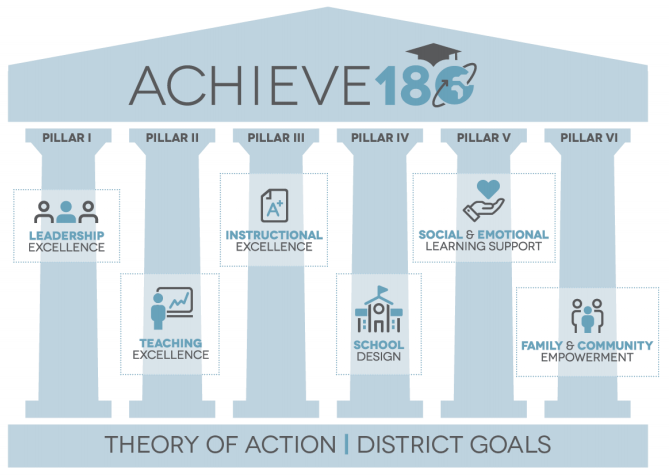 "If we provide a package of essential leadership, instructional, social and emotional, and community supports for our historically underserved and underperforming feeder patterns and school communities, then our schools will be equipped to accelerate preparation of our students to fulfill the qualities and characteristics of the HISD Global Graduate Profile," said Superintendent Richard Carranza.
Carranza and district leadership presented the plan to the HISD Board of Education at a workshop on April 20. Click here to view the presentation.
Achieve180 will begin at selected schools during the 2017-18 school year within underserved and underperforming feeder patterns.
"We are ensuring that school leadership and teachers in these feeder pattern communities are not only up for this opportunity, but are incentivized for their efforts and commitment to the long-term work," Carranza said. "The successful implementation of this initiative and the strategies it includes must rest upon the entire district. In the end, my sincere belief is that every campus will benefit as we scale the research-based, best practices of Achieve180 across our district."
Schools served by the Achieve180 initiative include:
KASHMERE FEEDER PATTERN
Kashmere High School
Key Middle School
Cook Elementary School
Kashmere Gardens Elementary School
MADISON FEEDER PATTERN
Madison High School
Lawson Middle School 
MILBY FEEDER PATTERN
Milby High School
Gallegos Elementary 
NORTH FOREST FEEDER PATTERN
North Forest High School
Forest Brook Middle School
Hilliard Elementary School
WASHINGTON FEDEER PATTERN
Booker T. Washington High School
Highland Heights Elementary
Wesley Elementary
WHEATLEY FEEDER PATTERN
Wheatley High School
Bruce Elementary School
Dogan Elementary School
WORTHING FEEDER PATTERN
Worthing High School
Woodson K-8
Young Elementary School
Mading Elementary School 
YATES FEEDER PATTERN
Yates High School
Cullen Middle School
Blackshear Elementary School
Additional schools served are: Bonham Elementary School, C. Martinez Elementary School, Edison Middle School, Foerster Elementary School, Gregory Lincoln K-8, Henry Middle School, Lewis Elementary School, and Westbury High School.