HISD Team Lead for Supplier Diversity Bernard Willingham told a group of small and minority business owners to remember one number: $1.89 billion.
"Every one of you in this room should want to know how you can get your hands on that for your business," said Willingham, who spoke about the district's 2012 bond program Thursday at a Doing Business with HISD workshop held at Houston Community College's Southeast Center for Entrepreneurship.
The event, which drew about 30 attendees, offered small and minority- and women-owned business enterprises (M/WBEs) guidance on responding to contract proposals and forming joint ventures that can help improve their business capacity for HISD projects in the 2012 bond program, which will build or renovate 40 schools across the district.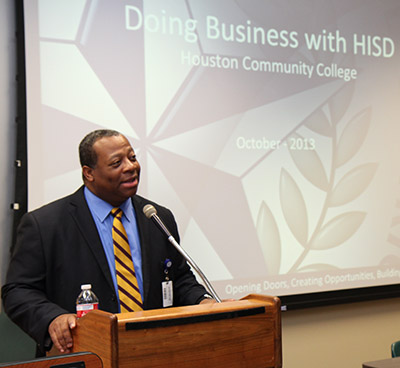 "I came here because I want to learn more about the RFQ (Request for Qualification) process and how to get a contract with HISD," said Victoria Lara of Impact Stone, a stone fabrication M/WBE based in Houston. "It helps to know that HISD is still in the design phase for some of these projects, too. My parents started this business here 20 years ago, and I want to keep our projects as close to home as I can."
When looking at HISD as a potential business partner, Willingham said M/WBEs need to understand that the district has a tremendous scope of work as the largest school district in Texas and the seventh largest in the country. Since many small businesses cannot handle that scope of work on their own, they should consider forming legal joint ventures.
"A joint venture is a lot like a marriage," Willingham said. "You can't rush into it. It's important that you work together, have the same goals and that you like each other. Make sure it's an arrangement you can live with."
Learn more about HISD's 2012 bond program
The district plans to invest millions in school renovations, technology upgrades, athletic facility overhauls, safety and security improvements and land acquisition. For each school within the bond program, a job fair will be held to fulfill construction, contract and supplier needs to build or renovate the schools.
"We're serious about every business in the school's community having an opportunity to participate in our school building projects," Willingham said. "The question is how do you as a M/WBE differentiate yourself. You have to network. There's no getting around the relationship building that has to take place."
Learn more about joint ventures at Workshop Wednesday
To date, the M/WBE participation rate in the 2012 bond program for professional services, including design, is about 51 percent. Those firms awarded contracts for Construction Manager at Risk have committed to contracting between 20 and 40 percent of their work with M/WBEs.
"There isn't one product or service in this room that HISD isn't buying, but you're going to have to participate in the bid process before you can deliver those services," Willingham said. "Sometimes small businesses are afraid of this process. Don't let that intimidate you."