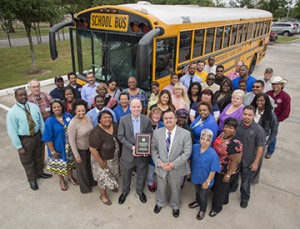 Department called a model for technology, training, efficient service
The Council of the Great City Schools is honoring HISD with a Special Recognition award to recognize the exemplary performance of the district's Transportation Department.
The award states that HISD's Transportation Department stands as a model for exemplary performance in the use of technology, staff development and training, quick and efficient service, and resource stewardship.
The Council of the Great City Schools brings together the nation's largest urban public school systems in a coalition dedicated to the improvement of education for children in the inner cities. The Council and its member school districts work to help schoolchildren meet the highest standards to become successful and productive members of society.
"This recognition speaks to the service excellence of the transportation staff," said HISD Chief Operating Officer Leo Bobadilla. "It takes an incredibly strong team to safely transport more than 30,000 students to school every day."
This latest award comes on the heels of the Transportation department ranking among the nation's "100 Best Fleets" in North America for four consecutive years. In addition, the department recently received a Telly Award for its education safety training video to promote school bus riding safety. Since October 2013, the video has received almost 40,000 views.
"I continue to be amazed at the incredible talents of all team members within the Transportation department," said HISD General Manager of Transportation Nathan Graf. "I am so fortunate to work alongside an awesome group of people."