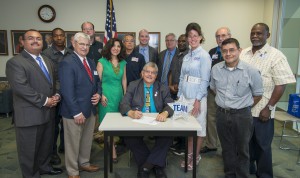 The Houston Independent School District recently was honored for its outstanding service and dedication in supporting military personnel working for the district.
The Employer Support of the Guard and Reserve organization (ESGR), a U.S. Department of Defense office, presented the district with its "Above and Beyond Award" at the June 12 regular Board meeting.
HISD is recognized for its efforts in going above and beyond legal requirements to recruit and retain Guard and Reserve employees. The award is given in limited numbers by state committees to employers who have had at least one of their managers recognized with a Patriot Award.
HISD Senior Manager of Fleet Operations Mark Swackhamer was the recipient of a Patriot Award after being nominated by HISD Transportation employee and U.S. Army Reservist Spc. Benjamin Lytle, currently serving in Afghanistan. Swackhamer is recognized for providing direct support and promised employment to Lytle and his family during his recent deployment.
"Mr. Mark Swackhamer is unaware of the 7 Army Values he represents and [he] instills these values into his employees on a daily basis," Lytle wrote in a letter to ESGR. "Through these actions, concerns for my family and me, and support of my recent deployment, he has proven that he is a true Patriot."
HISD trustee Manuel Rodriguez also accepted an award during the Board meeting for his support and previous service in the U.S. Air Force during 1970 to 1977.
"This would not be made possible without the effort of military service here in the district and all of our employees who have served our nation," Rodriguez said.