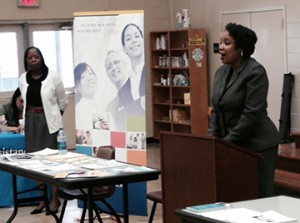 This month's Workshop Wednesday, hosted by HISD's Business Assistance Supplier Diversity team, featured helpful tips from business associations that offer certifications to minority- and women-owned business enterprises (M/WBEs).
Attendees received valuable advice and information on the benefits to qualified companies associated with becoming M/WBE certified. Angela Freeman represented the Houston Minority Supplier Development Council (HMSDC) and gave details on the steps and requirements involved.
"It can be a lengthy process, with providing documentation, interviews and a site visit. But once you have the M/WBE certification, more doors will be opened to you," Freeman said. "If you're competitive and can bring value to a company or agency, being certified can give you an edge.
Co-presenter Kenya Williams represented the Women's Business Enterprise Alliance (WBEA), another certifying association. She said most corporations and government agencies are looking to increase the number of contracts that are awarded to minorities.
"If you're looking to do business with our corporate members, that's good, because they are looking to do business with you," Williams said. "Once certified, you're not guaranteed a contract – but it does help you get your foot in the door."
The presenters also discussed the value of networking with other M/WBEs and the opportunities that both HMSDC and WBEA provide to do just that.
About 15 companies were represented at the workshop, with businesses ranging from commercial roofing and auto parts to a software supplier and medical services.
Dan De Leon retired from HISD in 2013 after 25 years working as a teacher, an assistant principal and most recently as principal at Chavez High School for 7 years. He attended the workshop to learn more about the process and benefits of certifying his new business venture, Forward Potential Consulting.
"I spent my career building effective teams in schools. I have a lot of wisdom to share," De Leon said. "It's tough being a new leader in a school, but that's where I can add value. I consult with principals and school leaders to develop strategies for success. A school can only be as good as its leadership."
De Leon has already done some consulting work with the district, but plans to go through the certification process to expand opportunities not only within HISD, but with other schools districts as well.
For the 2012 bond program, HISD's minimum M/WBE goal levels are 20 percent for all levels of purchasing and construction, and 25 percent for professional services.
HISD's Business Assistance Supplier Diversity department hosts Workshop Wednesday on the first Wednesday of each month. Topics covered vary and are targeted to providing information and assistance to M/WBEs interested in doing business with the district.